On-Water Adventures at Smith Mountain Lake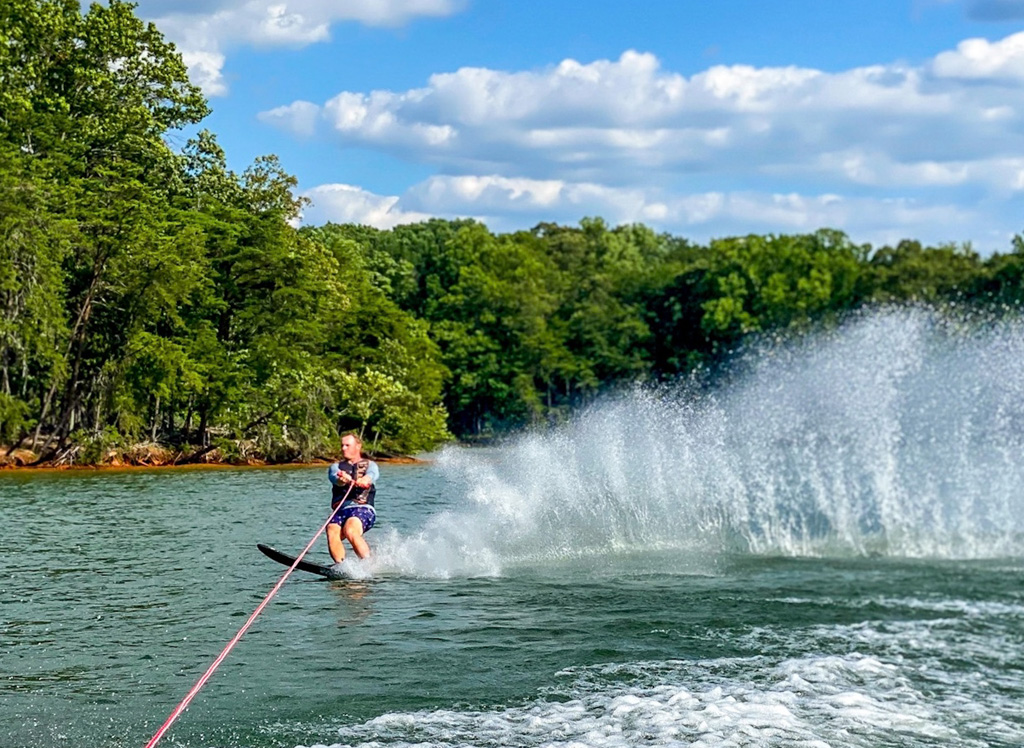 WanderLove is calling – and adventure is the destination. WanderLove is about reconnecting with what you love: on and off-water outdoor activities, cultural experiences, and the winding roads in between.
Smith Mountain Lake (SML) is the absolute perfect WanderLove road trip destination!
This is one in a series of blog posts focused on on-water adventures at SML. Be sure to stay tuned next month as we'll feature off-water adventures and cultural experiences around the region as well as spotlight additional dining and entertainment options.
Main Routes 220, 460, 29 as well as backroads 122, 626, 40, and 616 provide scenic highways for visitors to easily day trip or stay overnight at Smith Mountain Lake to fish, camp, golf, enjoy abundant water sports and play on our more than 500 miles of shoreline.
While swimming, jet skiing and boating are popular outdoor pastimes, Smith Mountain Lake also offers an array of outdoor recreation offerings such as local wineries, historical sites and LOVEworks of SML for visitors to experience along the way.
Late August and early September are such ideal times to visit SML with temperatures still very comfortable for being on the water. Use this suggested itinerary to plan your day or weekend experiencing lake life at the jewel of the Blue Ridge Mountains.
Before Your Visit:
✅ Book your overnight accommodations.
✅ Rent a boat, jet ski, and other water toys or bring your own! Check with all for the best rates during your stay. Looking for alternate ways to get on the water? Consider booking a cruise on the Virginia Dare or click here for a listing of Smith Mountain Lake fishing guides.
✅ Get your Virginia boating and fishing licenses.
✅ Check the calendar on Visit Smith Mountain Lake's website for live music and other events happening during your stay.
✅  Browse the annual Smith Mountain Lake Visitor Guide.
Your Road Trip Weekend Has Arrived
Day 1 / Saturday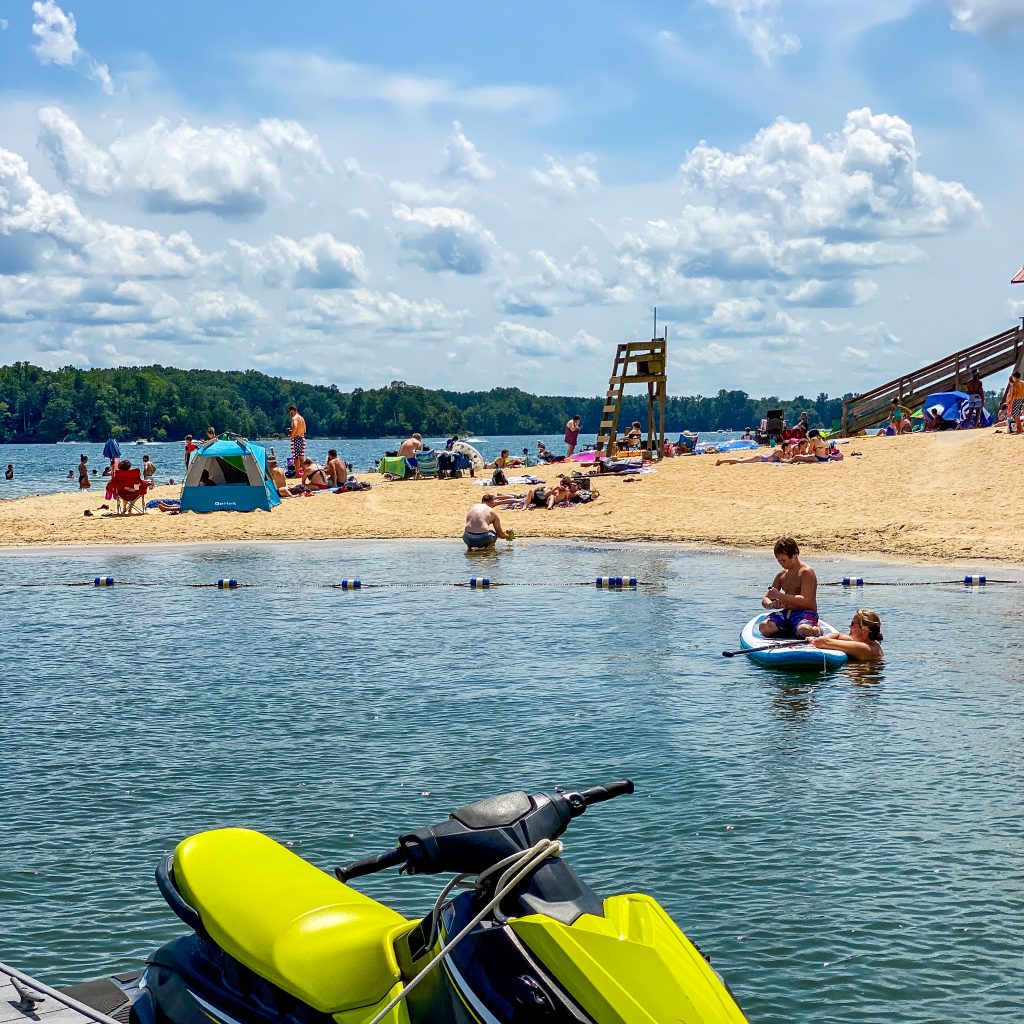 8:30 a.m. Breakfast at the Smith Mountain Lake Coffee House or CJ's Coffee & Sandwich Shop. Great days start with coffee by the lake!
10:00 a.m. Head to Bridgewater Plaza to check out the SML Visitor's Center for your free map, the latest print copy of the Visitor Guide, and souvenirs.
10:30 a.m. Pick up your rental boat and tube/wakeboard/skis from one of these convenient locations.
11:00 a.m. Hit the water and cruise; get familiar with your map.
1:00 p.m. Late lunch at Mango's Bar & Grill or Portside Grill & Bar. Click here for a list of area restaurants.
2:30 p.m. Head over to the Smith Mountain Lake State Park where you can participate in numerous water activities such as swimming, boating, and fishing. If travelling by car a visit to the Smith Mountain Lake Community Park is worth checking out.
3:30 p.m. Get out that tube, wakeboard, or skis and see what you've got! *Tip: avoid the main Roanoke River Channel when participating in watersports other than boating and jet skiing.
5:00 p.m. Check into your accommodations for the night.
6:30 p.m. Boat over to Mitchell's Restaurant at Mitchell's Point Marina for dinner, live music, and an incredible sunset. Don't miss the beautiful lighthouse on the way in.
9:00 p.m. For a little family fun competition, head back to Bridgewater Plaza for a round of miniature golf at Harbortown – an Old West-theme design elevated 15 feet over the lake or travel a half mile down the road to Hot Shots where you'll find a two-hundred-ton waterfall.
Day 2 / Sunday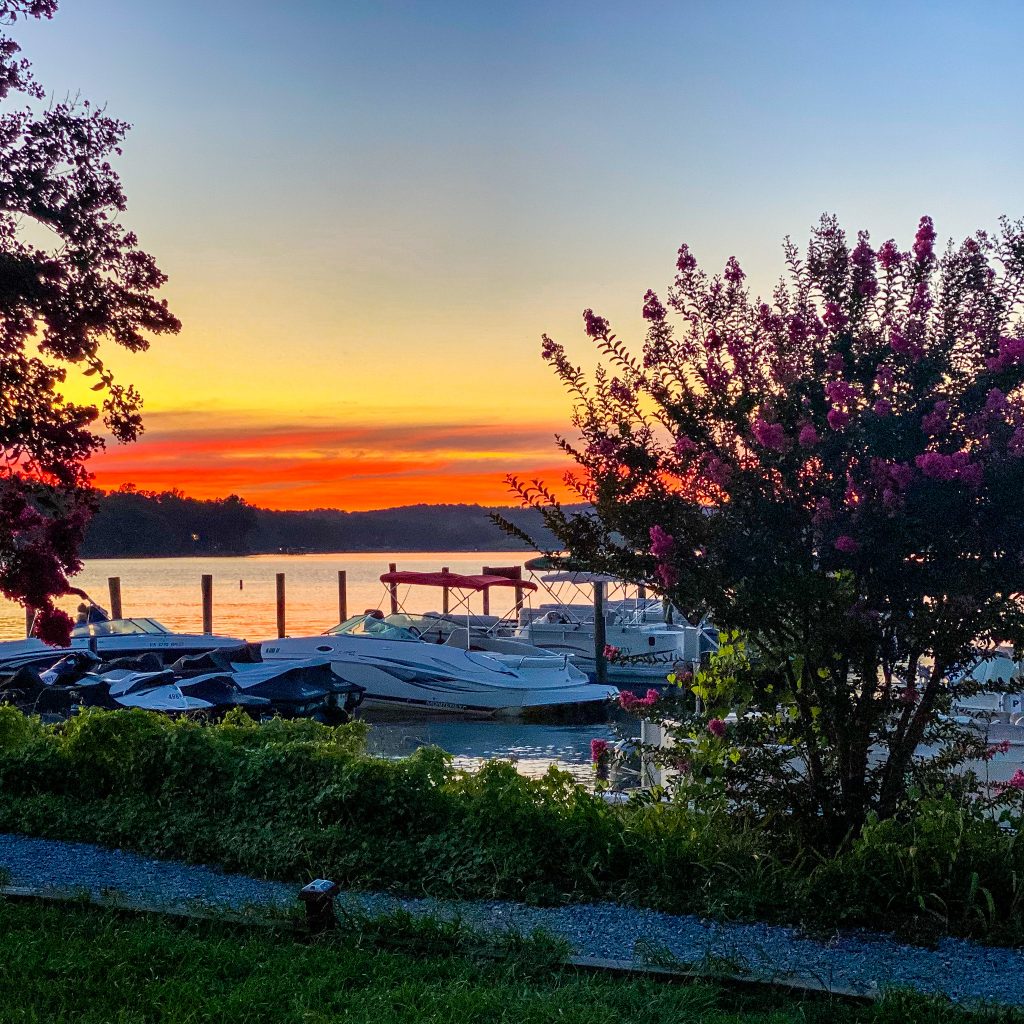 6:30 a.m. Sunrise kayaking or paddle boarding.
9:15 a.m. Attend Boat Church at Arrowhead Campground. 5625 Smith Mountain Lake Rd., Penhook. Located 3/4 mile South Southeast of B-4 on the Blackwater.
10:00 a.m. Head up Blackwater River to Union Hall's Magnum Point Marina for a late breakfast.
11:30 a.m. Cruise the water! Relax. You're on lake time.
2:00 p.m. Head to Drifter's for 50¢ Peel N' Eat Shrimp or Jake's Place, the Craft Beer Capital of SML, for lunch.
3:30 p.m. Find The Ice Cream Boat using their online tracker. Cash only!
4:30 p.m. Return your rental boat.
5:00 p.m. Feed popcorn to the carp that gather around Bridgewater Marina's docks. 100% of proceeds are donated to Make-a-Wish Greater Virginia.
5:30 p.m. Try climbing the rock wall or the bungee trampoline at The Lucky Duck adjacent to the marina.
6:30 p.m. Are you hungry after that fun-filled day? Dine on the patio at Pizza Pub on the second level of Bridgewater Plaza. Be sure to step inside the restaurant to see local lake artist Lisa Floyd's large mural of the SML gap!
7:30 p.m. Wind down from an action-packed weekend at Mexico Viejo Tequila Bar just next door (try the Tropical Piña Coladas served in a freshly cut pineapple) or head to Westlake to one of two Mexican cuisine restaurants there, El Rio Mexican Grill and Cancun Mexican Restaurant and Grill. Click here for a list of area restaurants.
Stay tuned for the next blog in our series titled, off-water Cultural Experiences & Outdoor Adventures at Smith Mountain Lake, coming in late September. The blog will include additional restaurant spotlights, historical sites and great attractions.