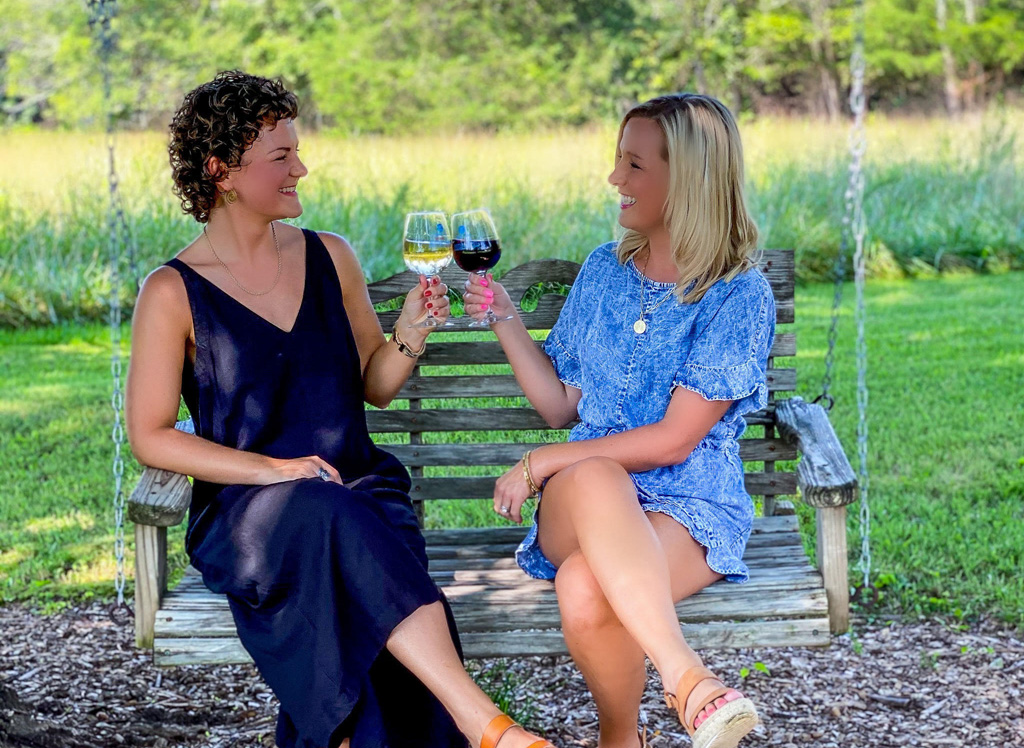 Oct. 7, 2020 - Fall at Smith Mountain Lake (SML) is the perfect season for camping, leaf peeping, and spending time with family and friends. 
Stunning fall foliage and cooler temperatures create the ideal atmosphere for experiences such as sunset wine tastings, a variety of autumn-themed events and activities, and Halloween festivities.
Whether you prefer a quiet tasting with your main squeeze or a lively weekend with good friends, you'll find it all at Smith Mountain Lake.
Before Your Visit:
✅  Book your overnight accommodations.
✅  Check the calendar on Visit Smith Mountain Lake's website for live music and other events happening during your stay.
✅  Browse the 2020 Smith Mountain Lake Visitor Guide or request a print version to be mailed to you for free.
Events to Pre-purchase Tickets For:
Weekend of Oct. 10
Sunset Saturday at Hickory Hill Vineyard & Winery 
Weekend of Oct. 17
Waid Park Sprint Enduro and VA Short Track XC Championship Race
Weekend of Oct. 31
EastLake Community Church Jamboree 
Weekend of Nov. 14
Historic Avenel – a "Spirited Evening" featuring Culpeper Paranormal Investigations
Your Road Trip Weekend Has Arrived
Friday Fun
On Friday, Oct. 30, Hot Shots will have live music for their Halloween Party.
The Town of Vinton will celebrate Halloween 2020 by showing the film "Hocus Pocus" on the lawn of the Vinton War Memorial at 7 p.m. on Oct. 30.
Possibly one of the most unique Halloween events happening in our area is WSLS 10's Drive-Thru Trick-or-Treating experience that will take place on Oct. 30 from 5 p.m. to 7:30 p.m. at Layman Family Farms.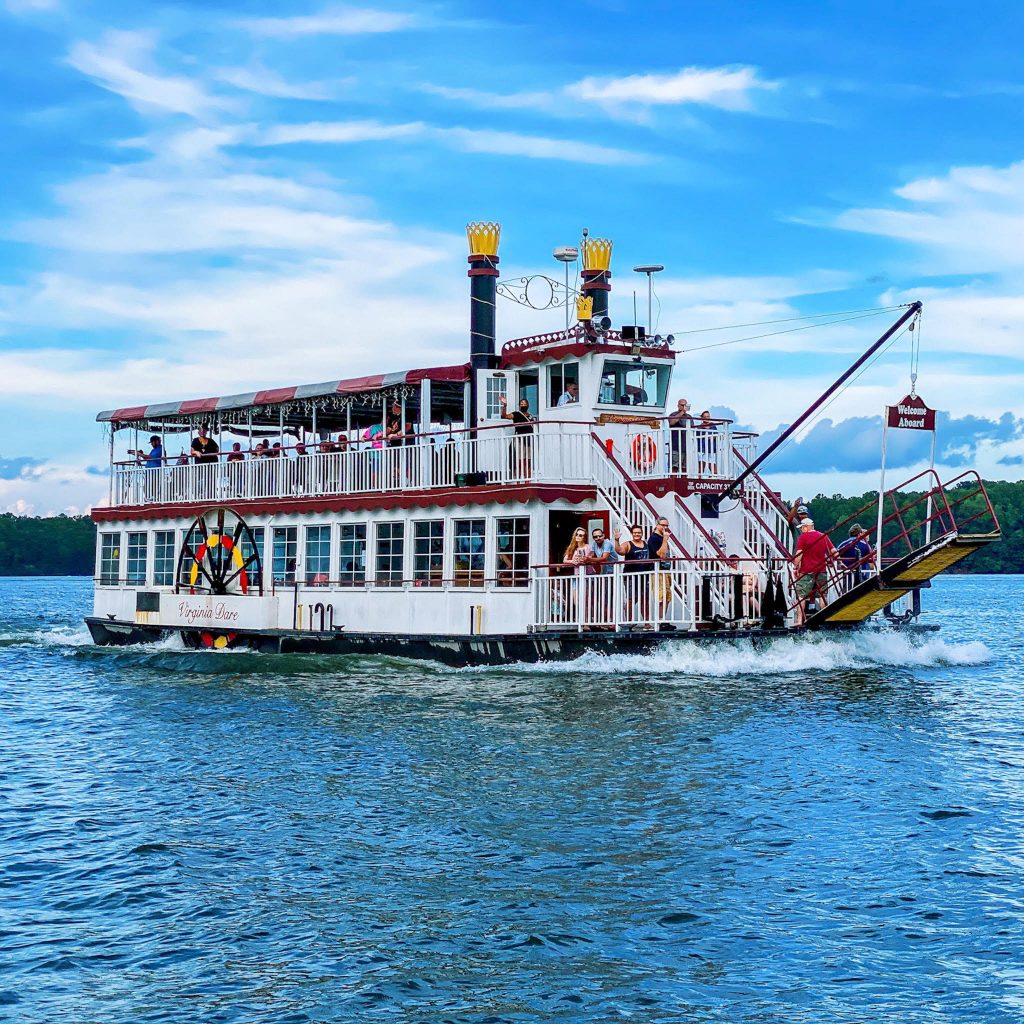 8 a.m. Breakfast at Diamond Hill General Store. Take in some crisp fall air by enjoying a country ham biscuit on their beautiful patio. Don't forget to check out their gift shop in the back of the store.
8:45 a.m. Swing by Smith Mountain Lake Coffee House and grab a pumpkin spice latte, or pumpkin white latte or CJ's Coffee & Sandwich Shop for a Caramel Macchiato.
9 a.m. Treat yourself to a massage at Serafina Spa, Southlake Spa & Salt Room, Oasis Salon + Spa, A Traveling Therapy, True Organics Spa, or opt to get a pedicure to start your weekend away at Diva Nails & Spa. If you are more into retail therapy, check out the shopping scene at the Westlake Corner:
Capps Home Building Center- For 12 straight years, Capps earned the highest honors for Best Customer Service in the Best of Smith Mountain Lake Awards. Look for fall porch décor in Lawn & Garden, pick-up the latest Yeti merchandise, and keep your eyes peeled for unique SML gifts.
Comfort & Joy - Smith Mountain Lake's premier clothing and accessory boutique. Browse a lavish supply of unique women's clothes, custom jewelry, and furniture.
Discovery Shop at SML - Help the American Cancer Society create a world free from the pain and suffering of cancer. The Smith Mountain Lake Discovery Shop is the destination for finding incredible bargains on home furnishings, furniture, art and collectibles, household items, small and large appliances, sporting goods and fitness equipment, tools and garden accents, costume and fine jewelry, and books and music.
Fabulous Finds- Vintage and repurposed home decor, antiques, distinctive gifts and more. Proud retailer of a full selection of Rada Cutlery.
Haywood's Jewelers – A full-service jewelry store that has become the premier place for extraordinary bridal sets, fine diamonds, custom jewelry, designer jewelry, and watches.
Mama Ann's - A unique shop with gifts, signature foods and snacks, laser engraving on-site while you wait to include lots of Smith Mountain Lake goodies.
The Southern Goat – A boutique carrying the most in style clothing as well as home décor, and designer florals.
True Awakeningz - Treat yourself to a peaceful shopping experience with calming sights, sounds and smells; a serene atmosphere unlike any other in Virginia. Spiritual, healing, and inspirational gifts.
10:30 a.m. Head to Bridgewater Plaza to check out the SML Visitor Center for your free map, the latest print copy of the Visitor Guide and souvenirs. 
10:40 a.m. Don't forget to grab your picture in front of the area's latest LOVEworks painted on the Visitor Center windows by local fine and commercial artist, Lisa Floyd.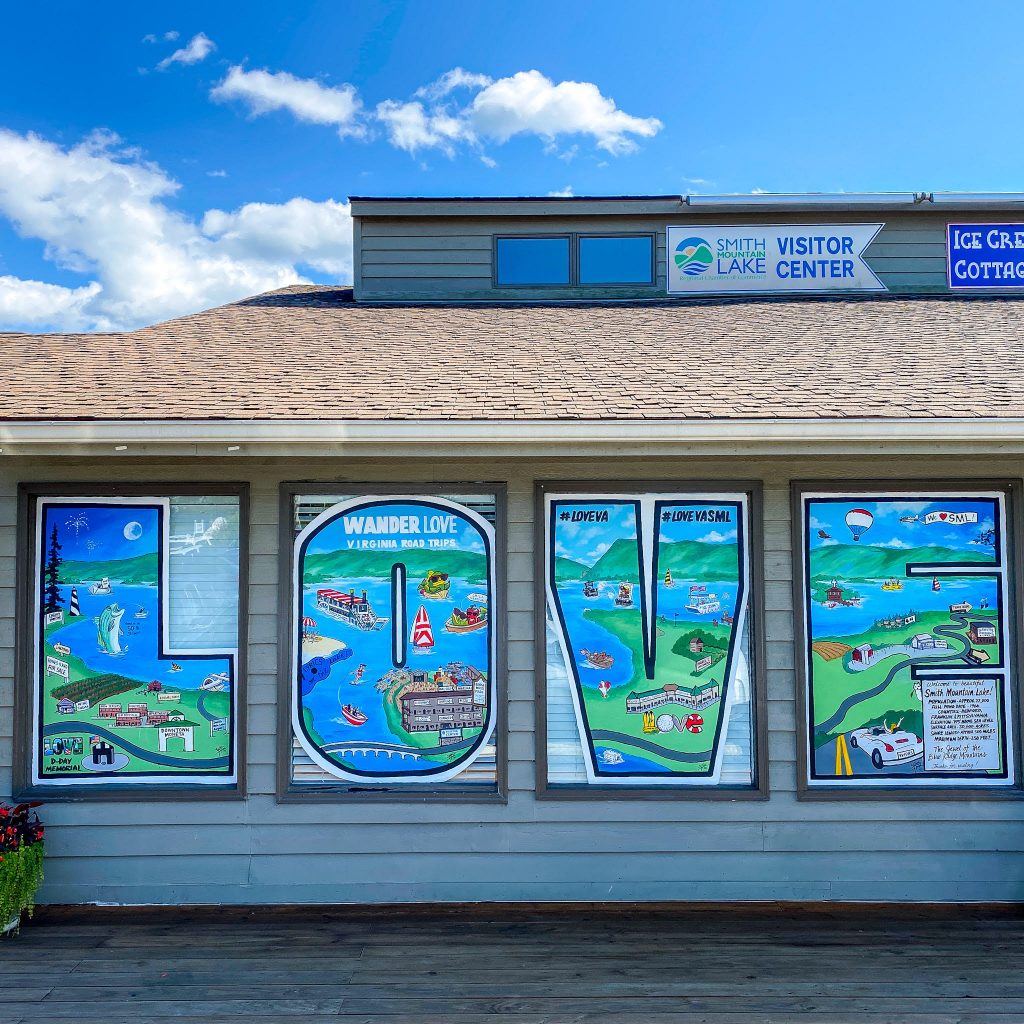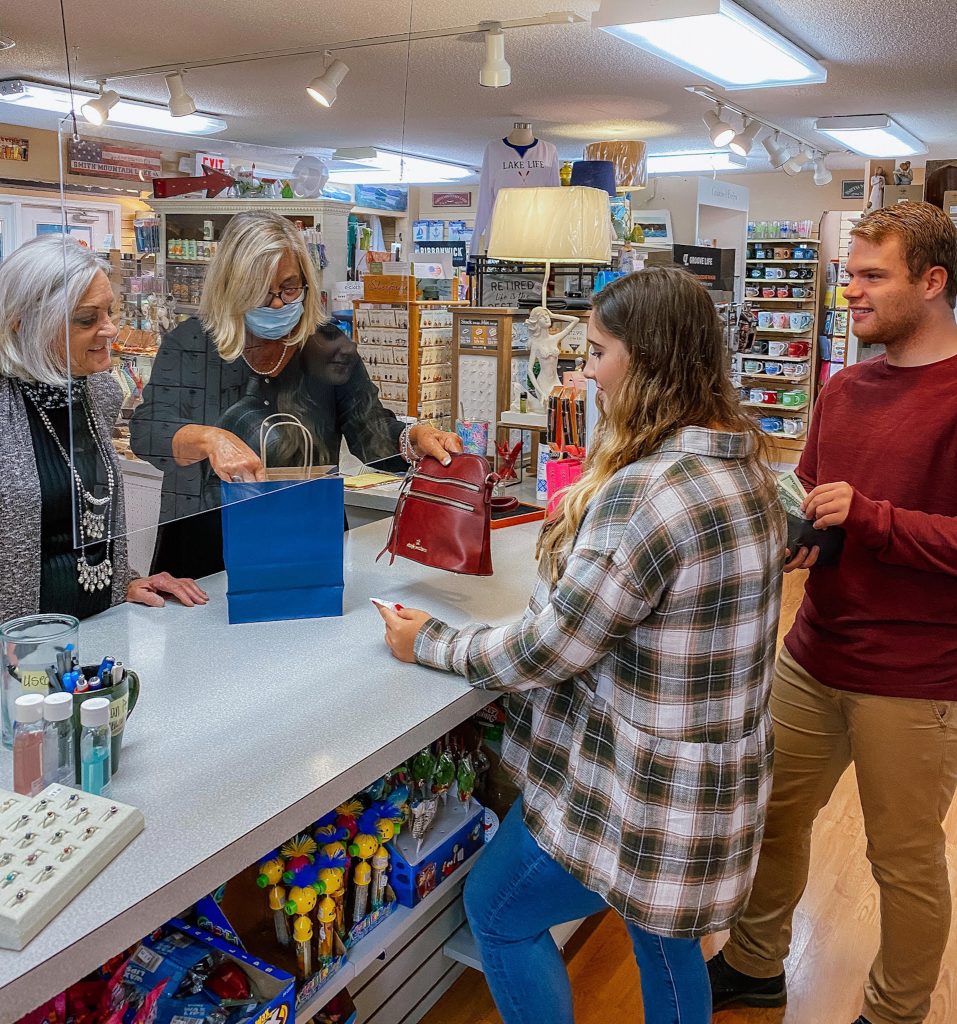 8:30 a.m. Breakfast at Joe's Pizza, an extensive, all-you-can-eat buffet. 
10 a.m. Head to Rocky Mount for Virginia Furniture Market's Blue Ridge Marketplace, which offers customers the unique opportunity to shop the exclusive VFM Decorator's Outlet stocked with high style accessories, decor and furniture at outlet prices, while also providing a special shopping experience for those who love antiquing. The Blue Ridge Antique Mall is full of booths with a wonderful selection of rare and one-of-a-kind pieces.
11:30 a.m. If you're a pet owner, visit Barkley's Pet Market while you're in Rocky Mount. You'll find all your supply needs for dogs, cats, aquatics, reptiles, campion birds, and small animals. They also have a specialty department for all your wild bird supplies, and a gift department for dog lovers.
Noon. Break for lunch. Check out our extensive list of area restaurants.
2 p.m. Head back toward Smith Mountain Lake to Brooks Mill Winery – a family owned and operated winery in Franklin County offering delicious, award-winning fruit wines for all personal tastes.
4:30 p.m. Stroll the decks of Bridgewater Plaza. Browse Gifts Ahoy for collections such as Simply Southern and Lilly Pulitzer, and sample some homemade fudge. For a Smith Mountain Lake sweatshirt to commemorate your visit, check out Bridgewater Sportswear.
5:15 p.m. Grab a rocking chair on the top level of Bridgewater Plaza and admire the fall foliage over the lake while snacking on some jerky from the Beef Jerky Outlet. While you relax in your rocker, browse for more gifts (and sunshine) that you can ship straight to your recipient (or yourself!) by visiting KEEPin' Up with J Bohn on your smartphone. Next, check out Claude and Company Fine Leather Goods, which specializes in men's and women's bracelets and satchels! For best-selling, age-fighting products, check out Alicia Hodges' NEORA line. 
7 p.m. Head to dinner at Blackwater Café for the chef's special (call ahead for details) and half-price appetizers, or order takeout at The Landing. Ask about their Landing Love Project, a program committed to feeding at-risk families and seniors in the SML area.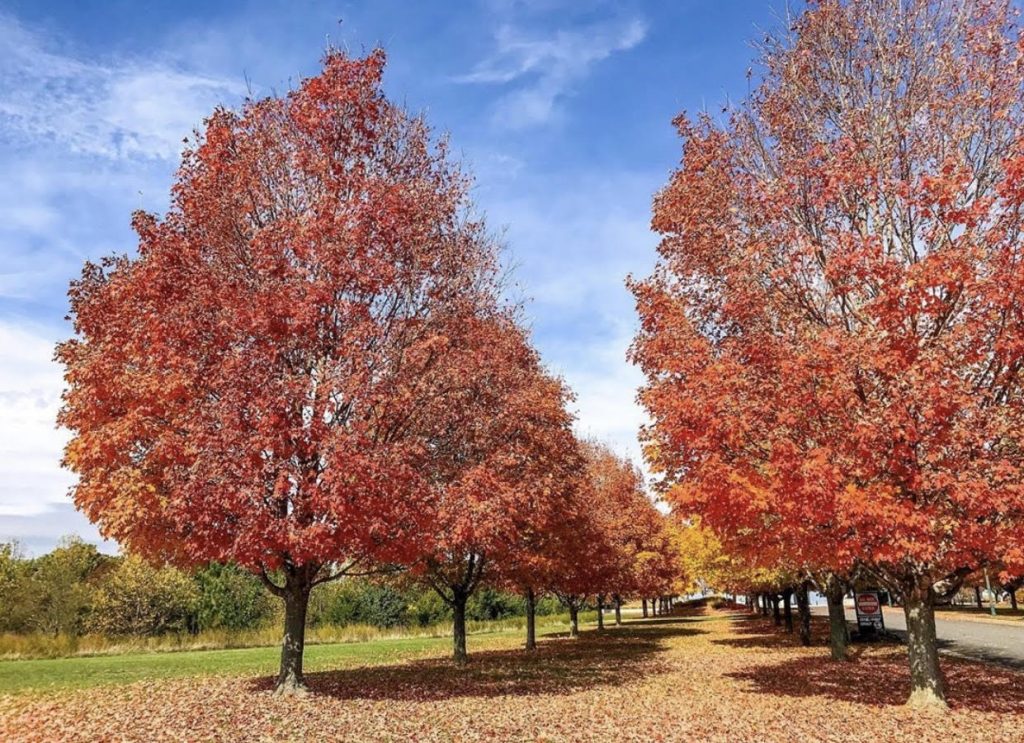 Mark your calendar for these 2021 events:
SML Wine Festival - September
SML Chili Festival – November
Experience WanderLove at SML
This is the third in a series of SML WanderLove blog posts focused on Smith Mountain Lake. 
Our first two blog posts highlighted on-water adventures and cultural experiences, along with outdoor adventure at Smith Mountain Lake.
Be sure to check back next month as we will feature 10 off-season hidden gems at SML and spotlight additional dining and entertainment options in the region.