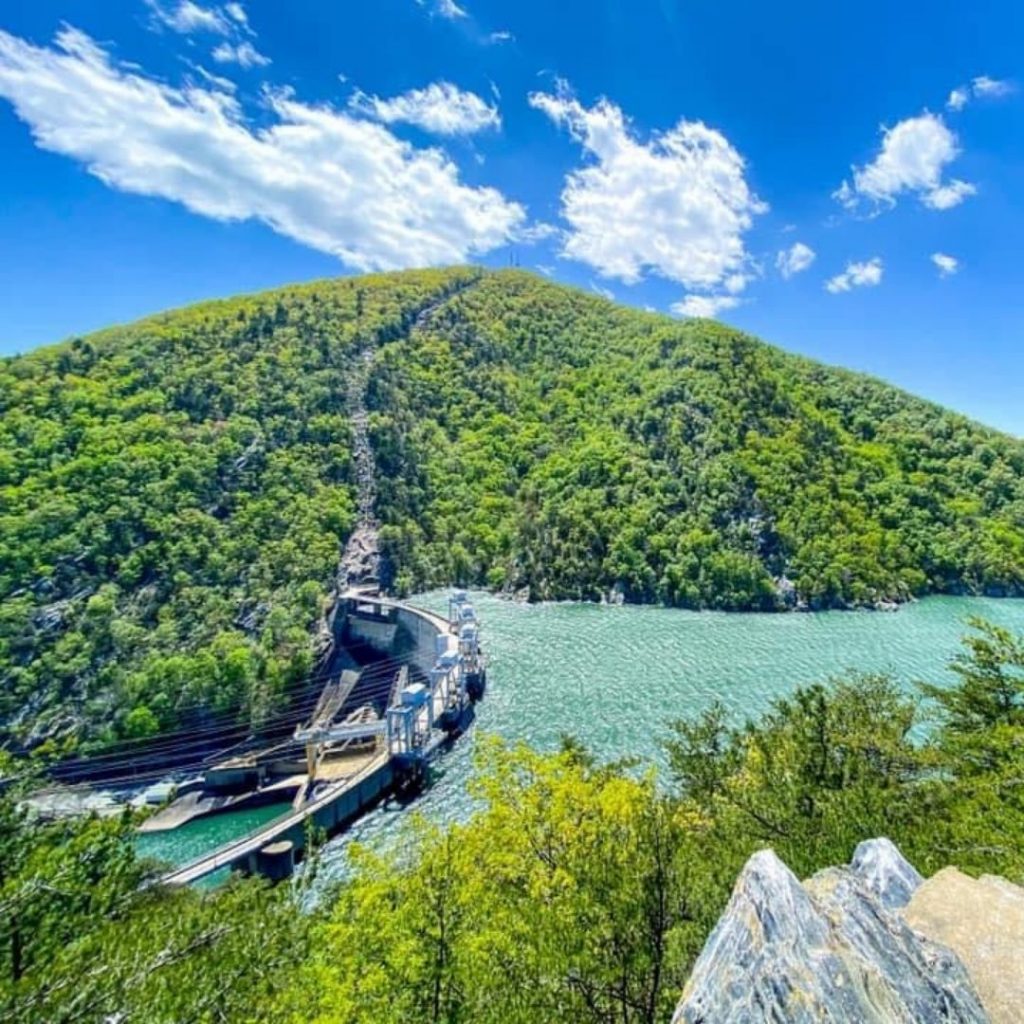 4. Smith Mountain Lake Cooperative Wildlife Management Trail
This area encompasses nearly 5,000 acres in Bedford and Pittsylvania counties, which is split into two areas on both sides of the Smith Mountain Dam. Access from Silver Dollar Lane in Huddleston gives you the opportunity to trek to the top of the mountain and then descend to gorgeous rocks that allow you to rest or enjoy a snack while gazing over the dam and at Craddock Creek below. Send us your pictures if you ever take this hike at sunset! Find out more about the trail.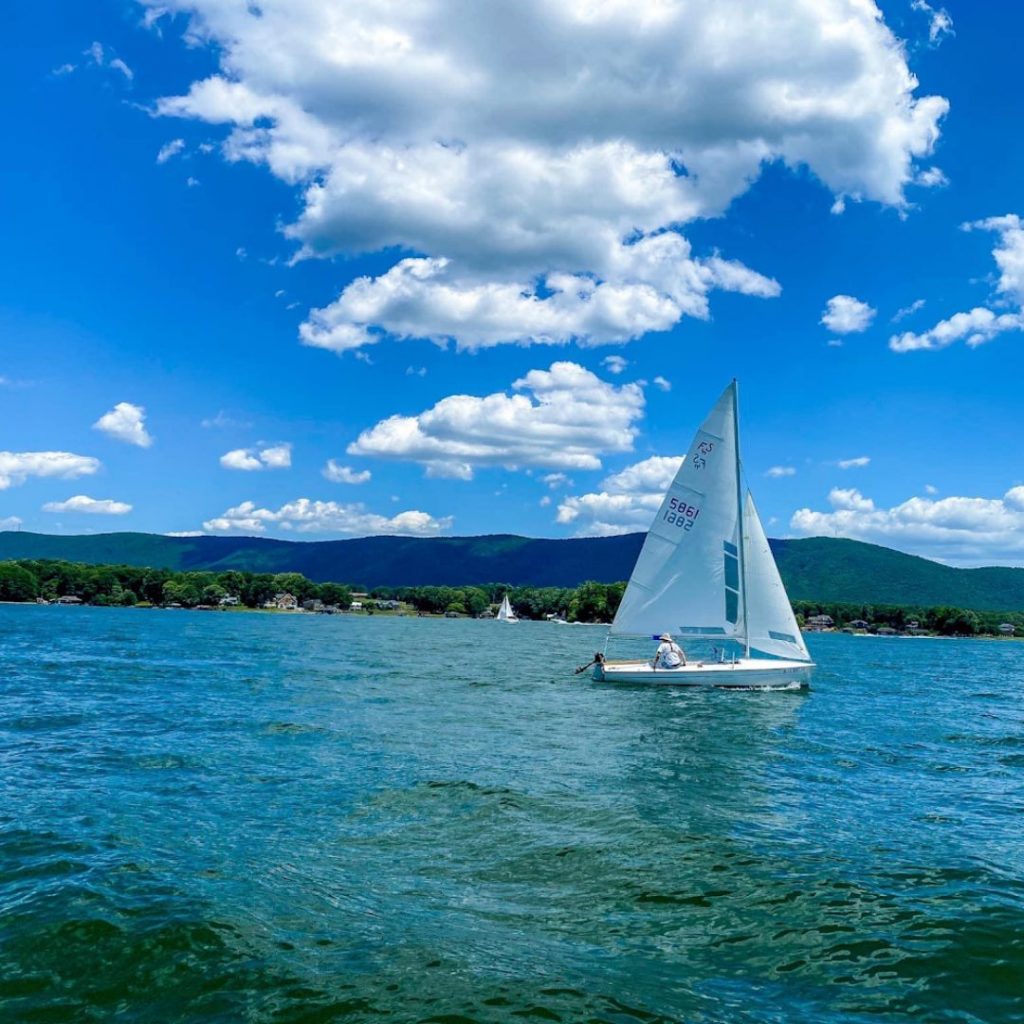 5. Smith Mountain Lake Sailing School & Sailing Charters*
Located off Gills Creek, the sailing school was formed in 2006 to provide US Sailing Certified Instruction for beginning sailors and coaching for experienced sailors to wish to improve their skills. Classes range from basic boat handling and sail trim for individuals to racing and spinnaker maneuvers with your crew. The Novice Courses will give you an understanding of sailing principles and plenty of "on water" experience sailing the J/24. Advanced sailors may sail solo on the Laser Sailboats or the Tanzer 16. Classes are scheduled by appointment and run five hours.
In addition, the Smith Mountain Lake Sailing Charters invites you to spend half a day with Captain Pete for groups up to four sailors. Relax and enjoy the ride of help trim sail and steer the boat. This option allows you to experience the beauty of Smith Mountain Lake while under sail. The charter may be booked on either the J/24 "Rascal" or the O'Day 35 "Joie de Vivre."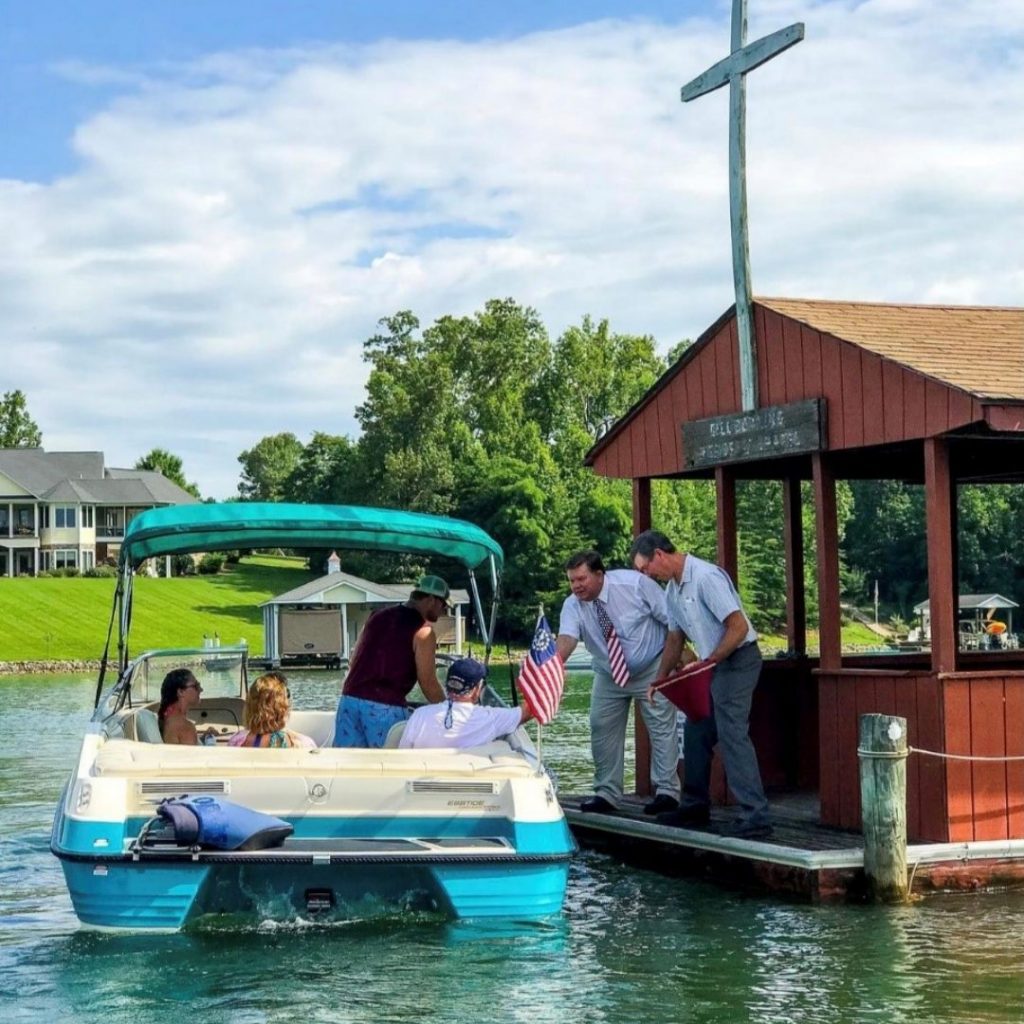 6. Boat Church*
The Bill Bowling Memorial Chapel located at Arrowhead Campground, three quarters of a mile south-southeast of channel mareker B-4 on the Blackwater holds services each Sunday from early May through September. You can attend by boat or car. Music begins at 9:15 a.m. with a message from Pastor Kendell Smith of Sandy Level Baptist Church.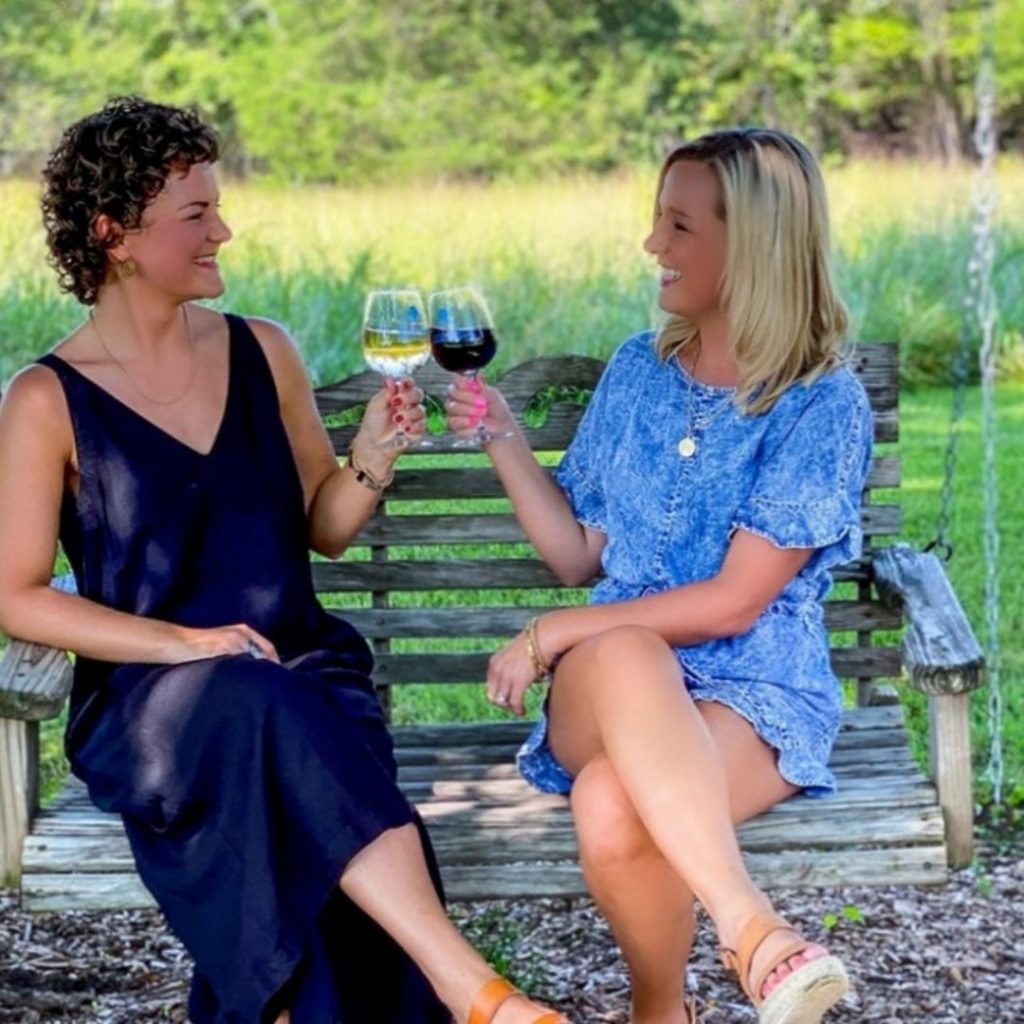 7. Hickory Hill Vineyards and Sunset Saturdays
A visit to Hickory Hill Vineyards is a must for any wine lover visiting or living near Smith Mountain Lake. Three generations of the Furrow family have experienced first-hand the growth and maturation of the Virginia wine industry.
Hickory Hill opened in 2001 as the 75th winery in the state making it the oldest winery at Smith Mountain Lake. Visit their tasting room and taste the difference 100 percent local makes.
"Sunset Saturdays" has been a local lake tradition since 2005. It's a wonderful way to spend a relaxing Saturday evening with good friends, good wine, and great live, local music in a beautiful setting. Sunset Saturdays take place most Saturdays from April to October. A few Saturdays are skipped, so be sure to check their website when planning a visit to Hickory Hill and Smith Mountain Lake.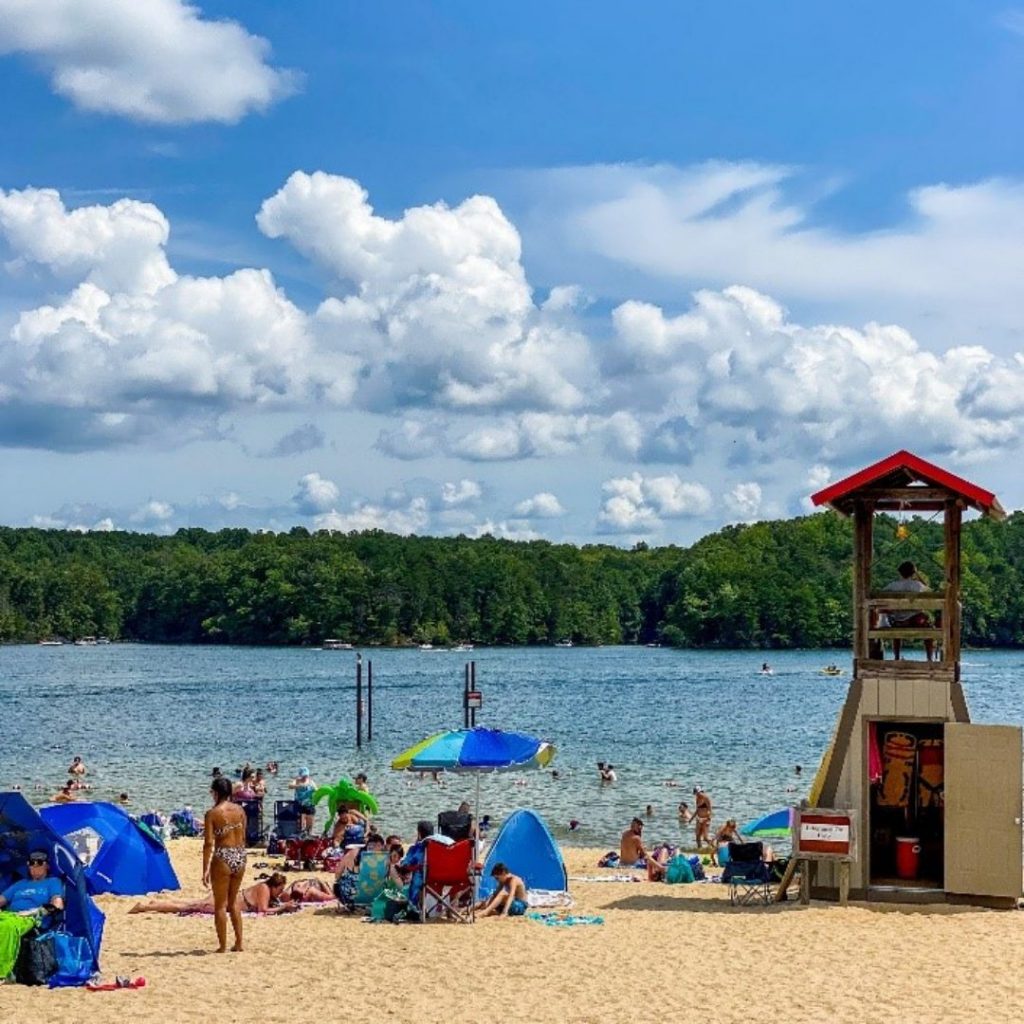 8. Smith Mountain Lake State Park*
Located on almost 1,300 acres, the park is on the north shore of Smith Mountain Lake in Bedford County. This charming park is the water enthusiast's paradise. There are numerous water activities, including swimming, boat rentals, a boat ramp and a universally accessible fishing pier. Families can also enjoy picnicking, a visitor center, an amphitheater, special programs, camping, miles of trails and cabins with boat docks.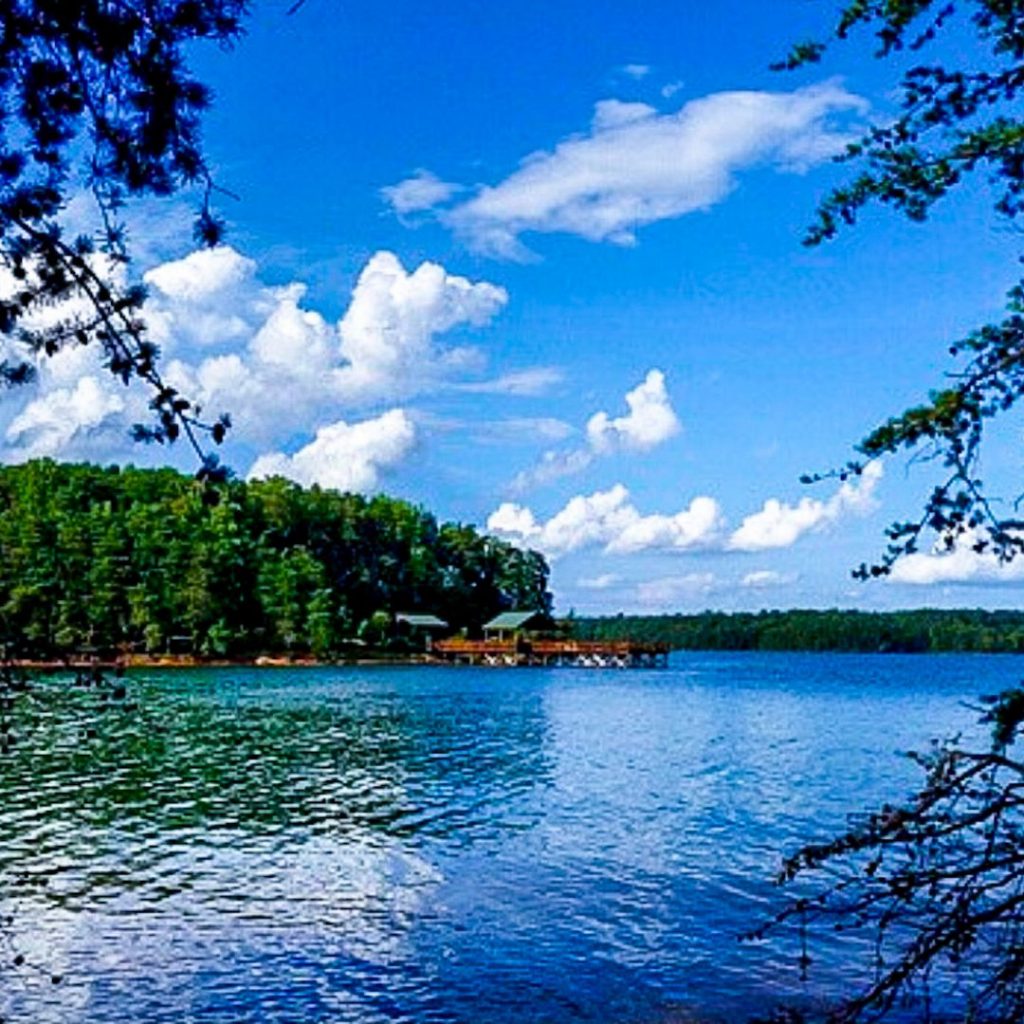 9. Smith Mountain Lake Community Park*
This 37-acre park includes a wooded peninsula that stretches out into the lake. It's a family-oriented facility providing swimming, fishing and recreation. SML Community Park is open year-round (dawn to dusk) and offers a partially covered handicap accessible fishing pier with seating, picnic shelters with grill, playground area, restrooms, hiking, jogging, a 2-mile trail system, and seasonal sand beach/swimming area with lifeguards on duty.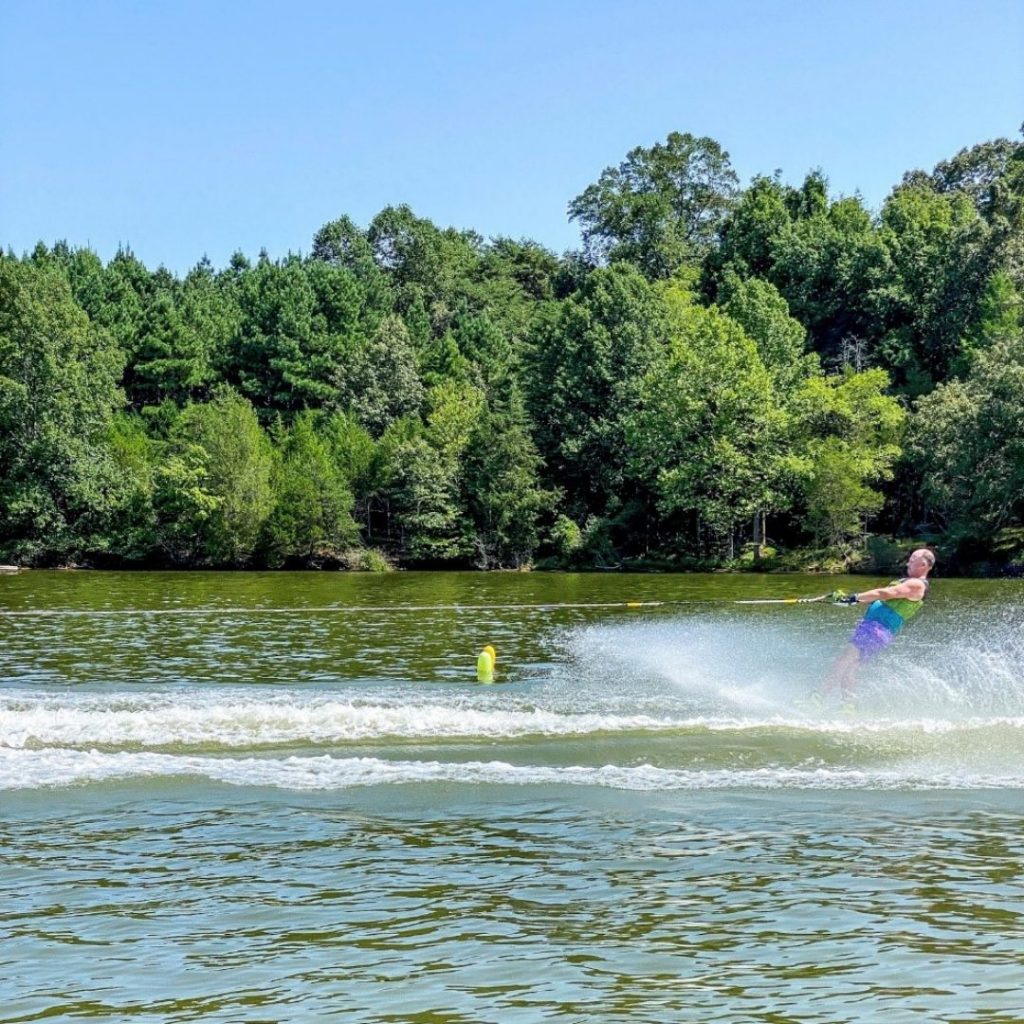 10. Slalom Water Ski Course*
This course, set up in a cove formed by Bull Run Creek, is public and available to all skiers. The course is maintained by the Smith Mountain Lake Water Ski Club strictly through the dues of its members.  If you use the course, and are not a member, they certainly welcome donations. Club members and club functions do have priority. Next time you are looking for a little challenge, grab your skis and head out to Bull Run!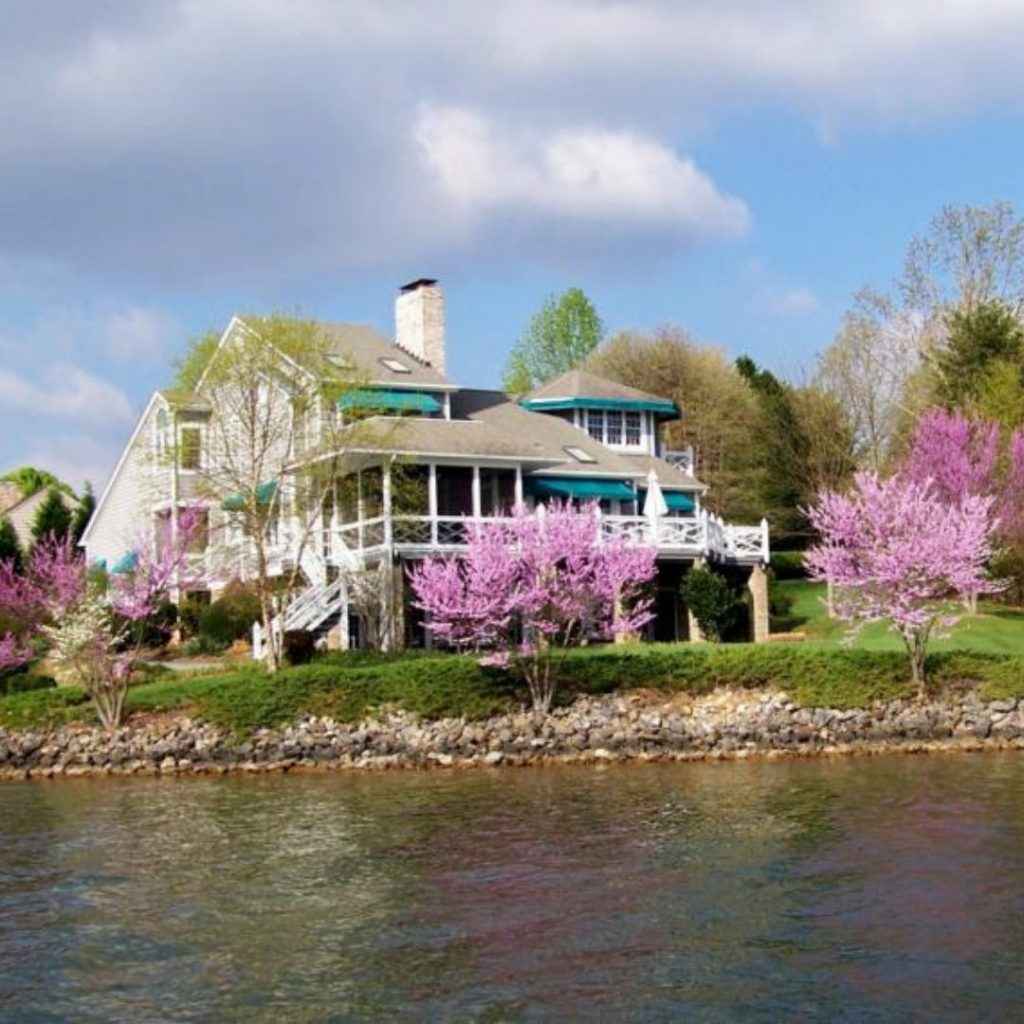 11. "What About Bob"*
In 1991, this Touchstone Motion Picture portrayed Smith Mountain Lake as Lake Winnipesaukee, a small vacation town in New Hampshire, starring Bill Murray and Richard Dreyfuss. It's a true Bill Murray classic and will have you laughing every time. This movie features beautiful shots of the lake, Old Downtown Moneta, and many scenes of a classic home built in 1987 on a gorgeous point lot. You can boat by the "What About Bob" house when cruising down the Blackwater River.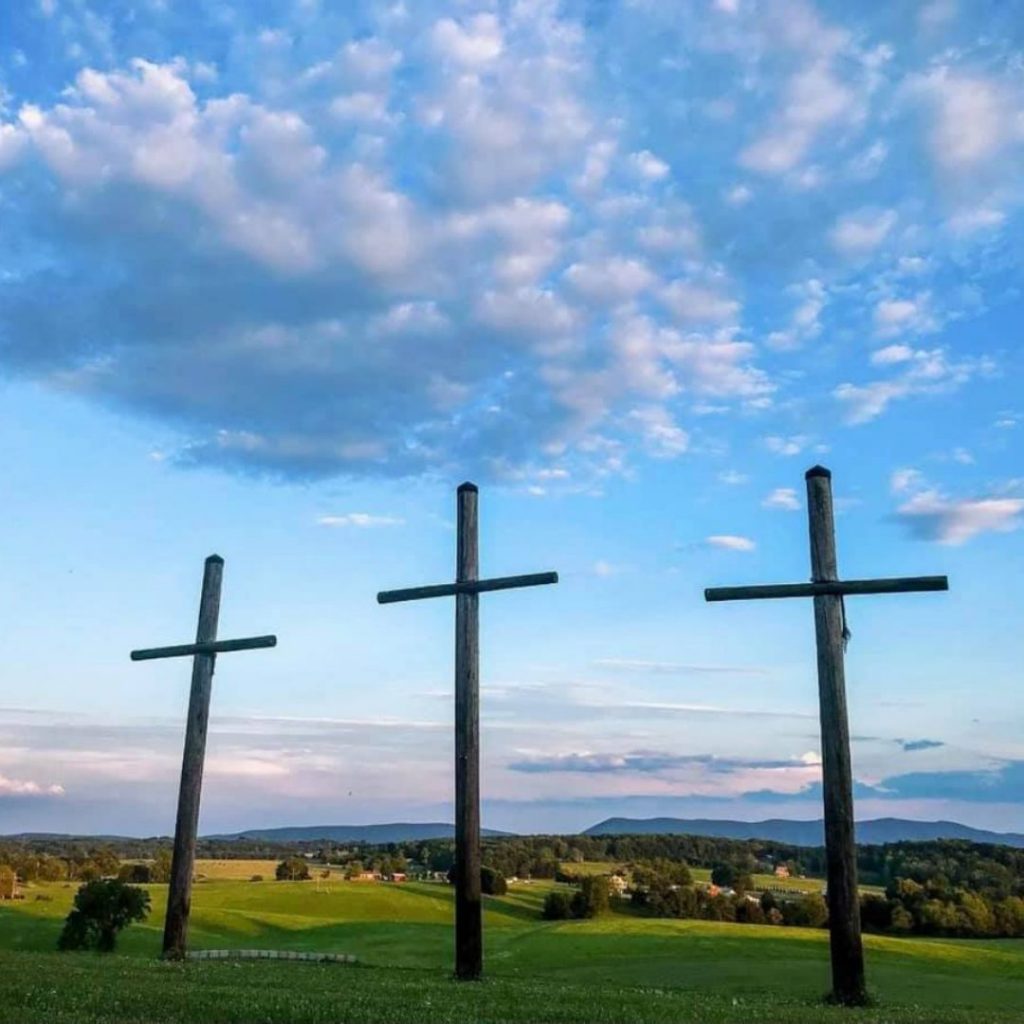 12. Three Wooden Crosses
Tuck Road in Moneta offer one of the most stunning views you will find off-water in all of our region. Overlooking Billy Tuck's farm, you can take in incredible sunrises with the three wooden crosses in the foreground and Smith Mountain in the background.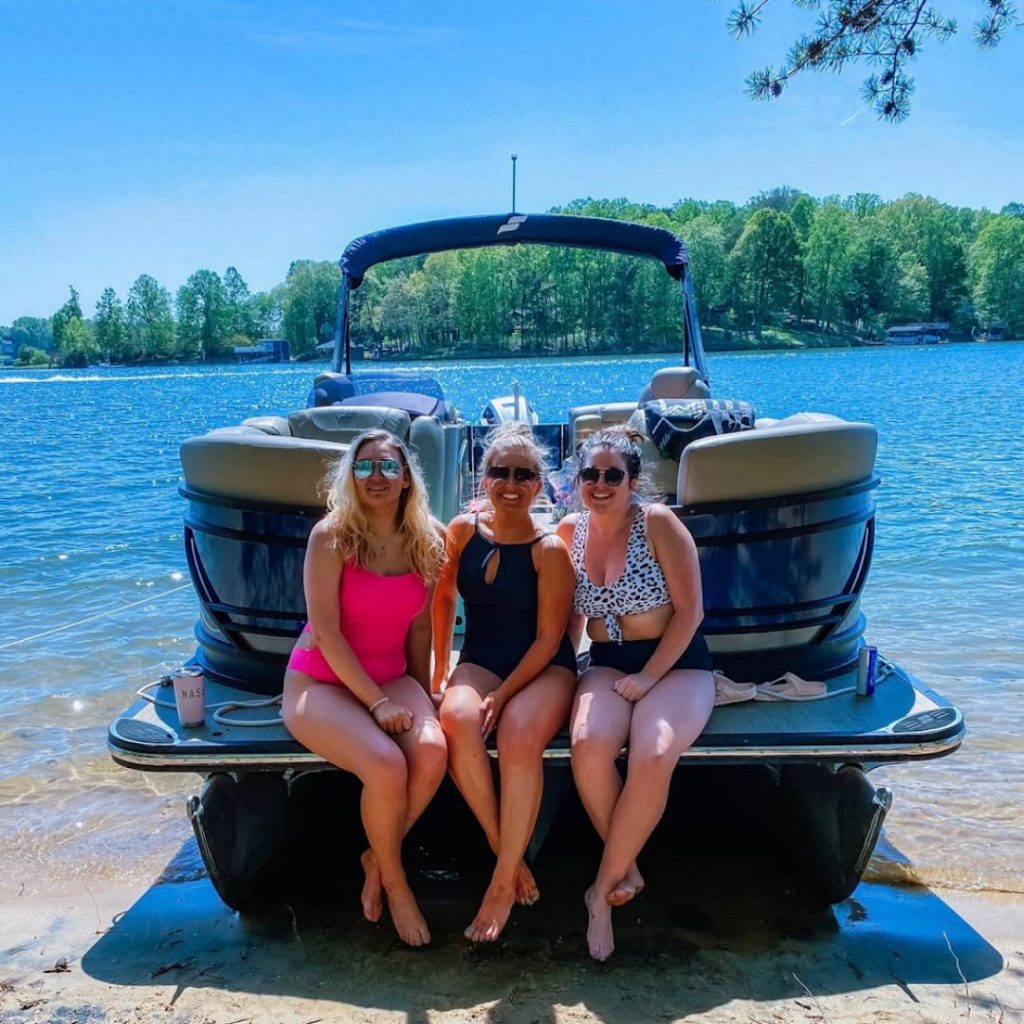 13. Islands of Smith Mountain Lake*
There are approximately 25 islands at the lake. Of those, Appalachian Power owns 16. The other nine are privately owned. Islands on SML have been identified as important resources to the Smith Mountain Project not only because of their scenic value but also because of their contributions to recreation, aquatic, and terrestrial wildlife. Boaters are encouraged to anchor their watercrafts to shore, giving the kids a place to play in the sand and swim. Some folks love to stop to have lunch or explore the trails, others have found great spots to fish. Just be sure to take any litter with you when you leave.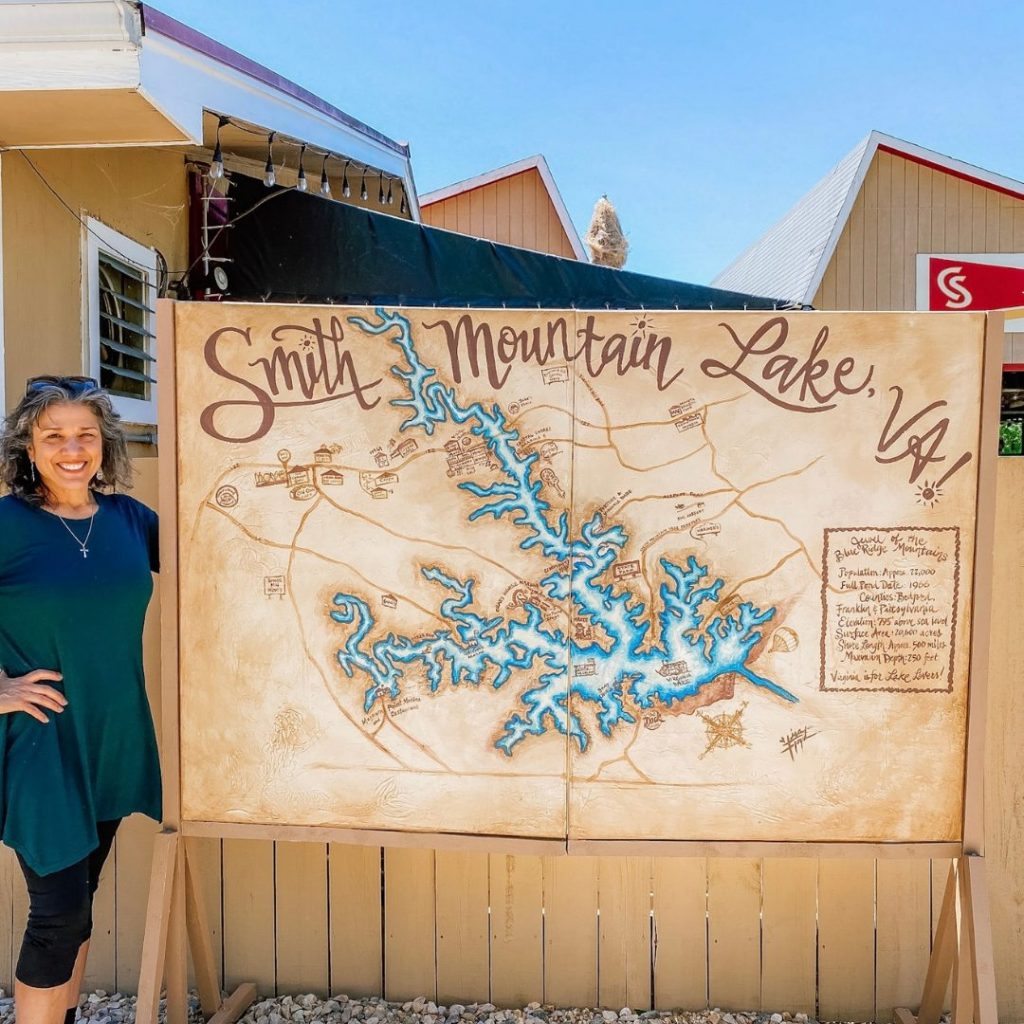 14. Lisa Floyd's Mobile Mural
Local lake artist Lisa Floyd has been painting up Smith Mountain Lake for years, but just in the last couple has she began creating mobile murals to move from event to event. Pictured is Lisa's latest work, which can be found popped up all around SML but will live at Drifter's when it is not attending a community function. Always unique and always photo worthy! Get your picture in front of this mural and if you are lucky, you'll have a Lisa Floyd sighting and can grab her autograph!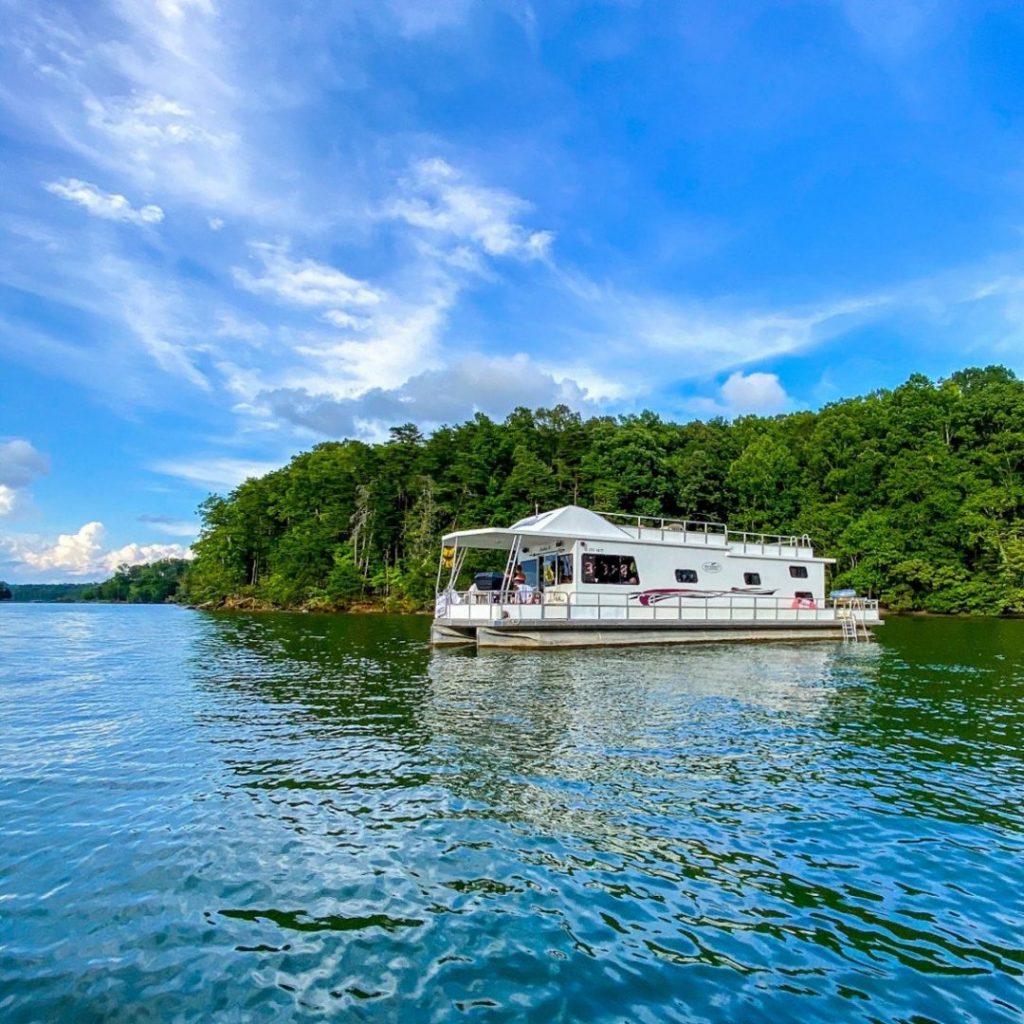 15. Houseboat Rentals*
Escape from the standard routine and enjoy a unique vacation on Smith Mountain Lake in a Keycraft custom-built houseboat. When you rent from Parrot Cove, they'll give you all the details on picking the best spot to anchor out for the weekend to enjoy houseboat living. For about the cost of a week at the beach, your family can experience a one-of-a-kind houseboat vacation on and explore the 500 miles of shoreline nestled in the Blue Ridge Mountains of Virginia.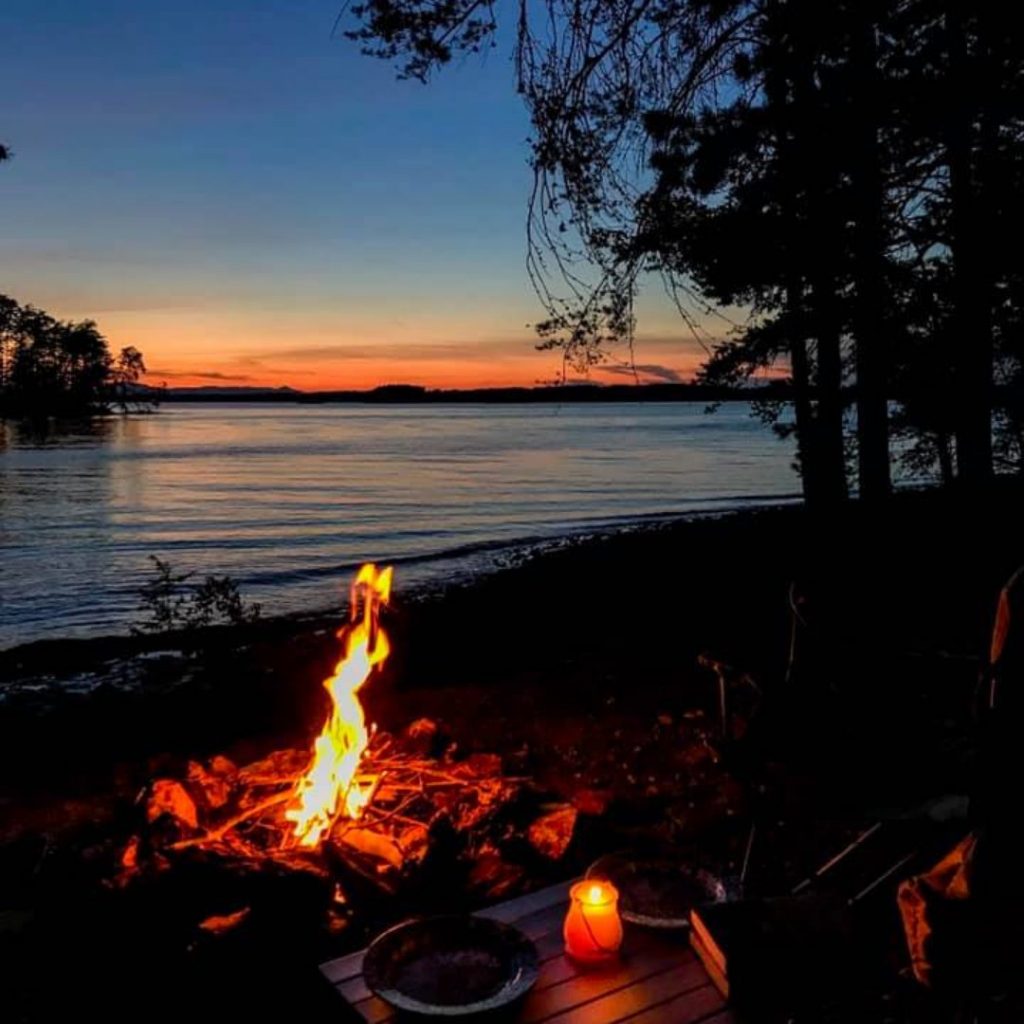 16. Primitive Camping*
Many folks don't realize that Appalachian Power still owns quite a bit of the undeveloped land here on Smith Mountain Lake, including the base of the mountain and 16 islands. On busier weekends such as Fourth of July, finding an open spot is nearly impossible. It's neat to boat by, see campfires and hear the laughter of friends enjoying lake life. Although primitive, the best part about camping on the base of the mountain is that it's free. Appalachian Power only asks that you clean up after yourself. Be sure to grab a spot early, get cozy, and stay awhile!
We hope you've enjoyed this sixth blog in a series of SML WanderLove blog posts focused on Smith Mountain Lake. Be sure to check back next month as we will feature Smith Mountain Lake events for the remainder of 2021.