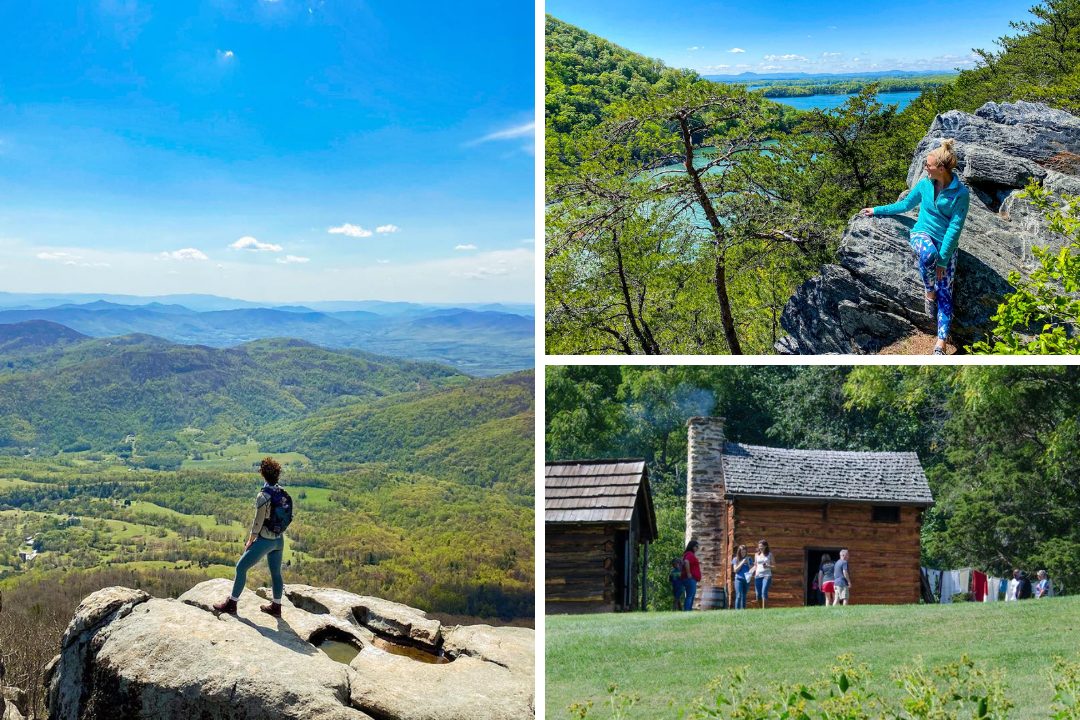 July 29, 2021 -Take a hike! 
No, seriously. Hikes near Smith Mountain Lake are highly recommended when you visit our stunning lake in Virginia's Blue Ridge. 
Beyond the physical benefits, Smith Mountain Lake hiking is sure to soothe the soul. If that sounds like something you're up for, keep reading for details on 10 hiking trails near Smith Mountain Lake that are sure to pique your interest (plus a few bonus ideas)!
Story by Trevor Smith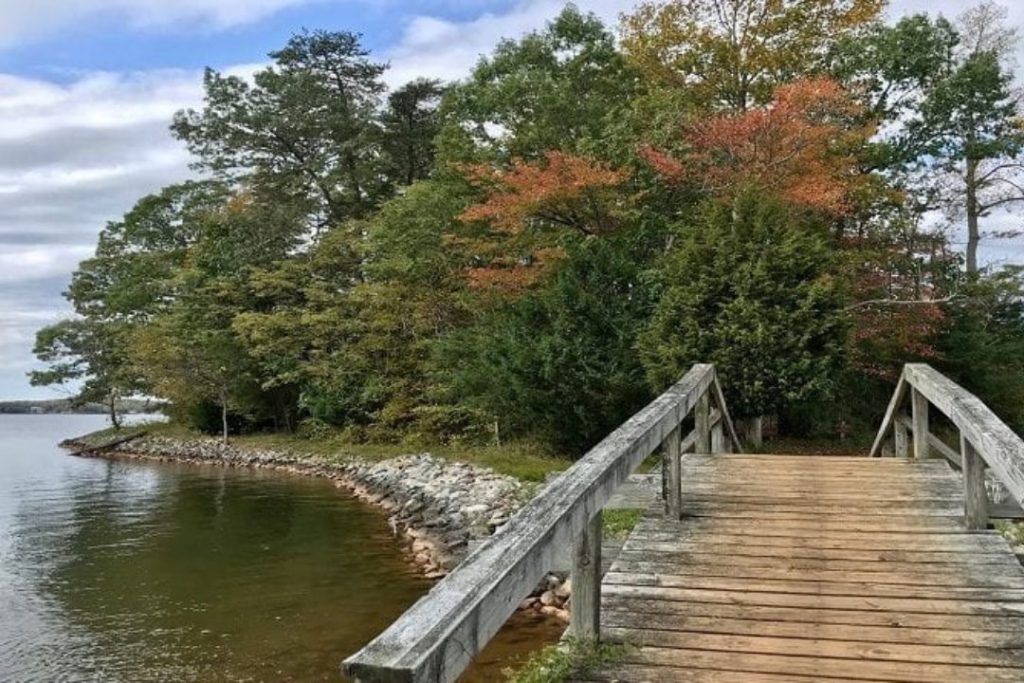 Smith Mountain Lake State Park |
Huddleston, VA
Smith Mountain Lake State Park hiking trails offer fun for the whole family, including your four-legged members. 
The park has seven trails, each with its own unique twists and turns and difficulty ranging from easy to moderate. Four out of the seven trails are rated as easy and range from 1.2 miles to 2.8 miles in distance. 
The seven trails include Turtle Island Trail, Chestnut Ridge Trail, Buck Run Trail, Interpretive Trail Loop, Striper Cove Trail, Walton Creek Trail and Beechwood Trail Loop. You might have time for more than one since the park is open from 8:30 a.m. to dusk daily. 
Dogs are allowed on the trails but must be kept on a leash at all times.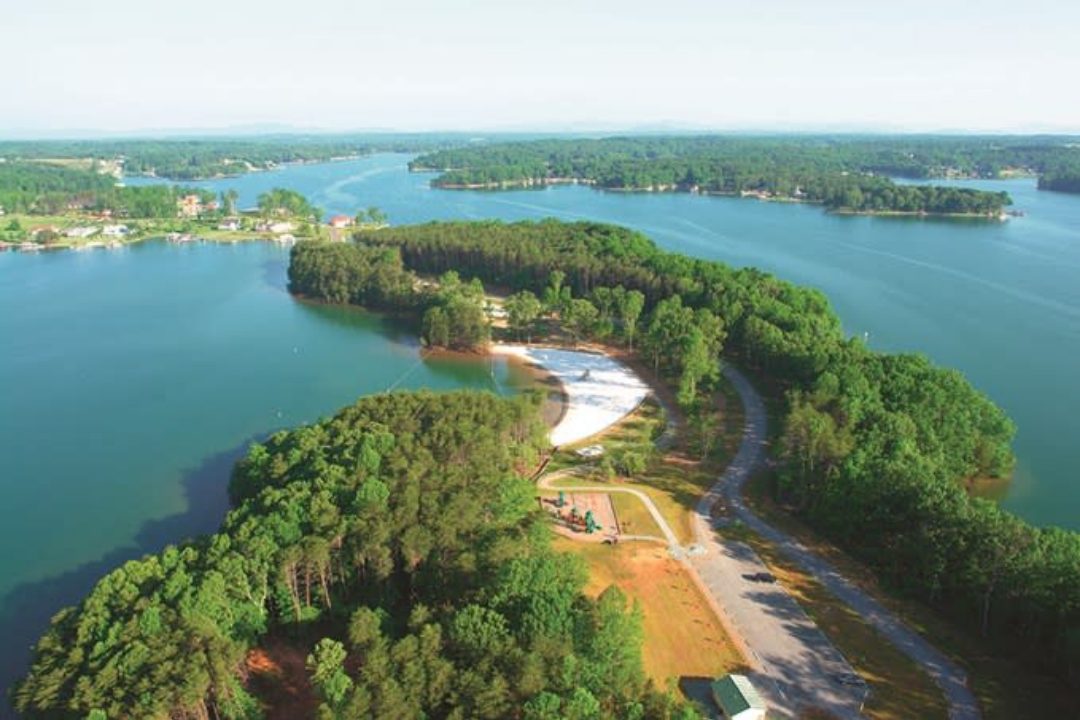 Smith Mountain Lake Community Park
| Moneta, VA
This 37-acre park is located on the Franklin County side of Smith Mountain Lake and is open year round from dawn to dusk each day. 
The park's easy, two-mile trail loops around the peninsula and offers beautiful lake views. There's also a fishing pier, playground, beach area and pavilion if you plan to make a day of it. 
Dogs are allowed to use this trail, but must remain on a leash at all times. They're not allowed on the beach.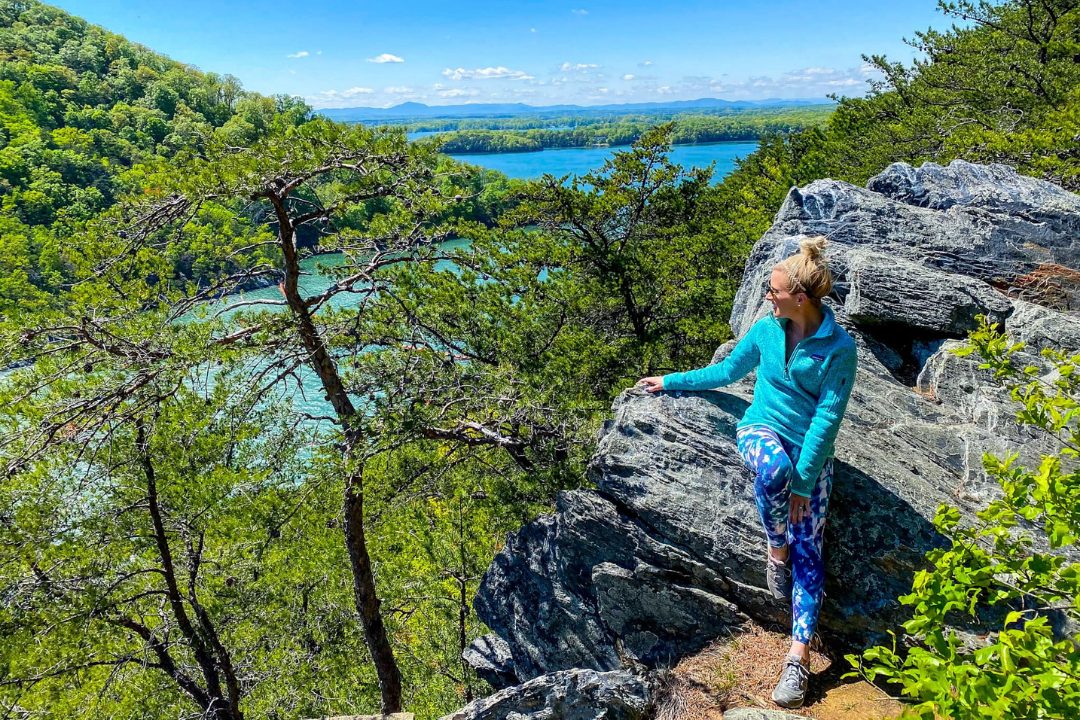 Smith Mountain Lake Cooperative Wildlife Trail/Management Area
| Pittsylvania County, VA
When people ask about hiking Smith Mountain, this is the trail we recommend. 
This stunning area is owned by Appalachian Power and provides multiple hiking opportunities. You can hike on either side of the Smith Mountain Dam, but both end up in spots overlooking the dam and the lake.
This area is mainly used for hiking, hunting, fishing, watching wildlife and viewing the beautiful hidden gem of the Blue Ridge that is Smith Mountain Lake. Dogs are able to be on the trail but must remain on a leash at all times.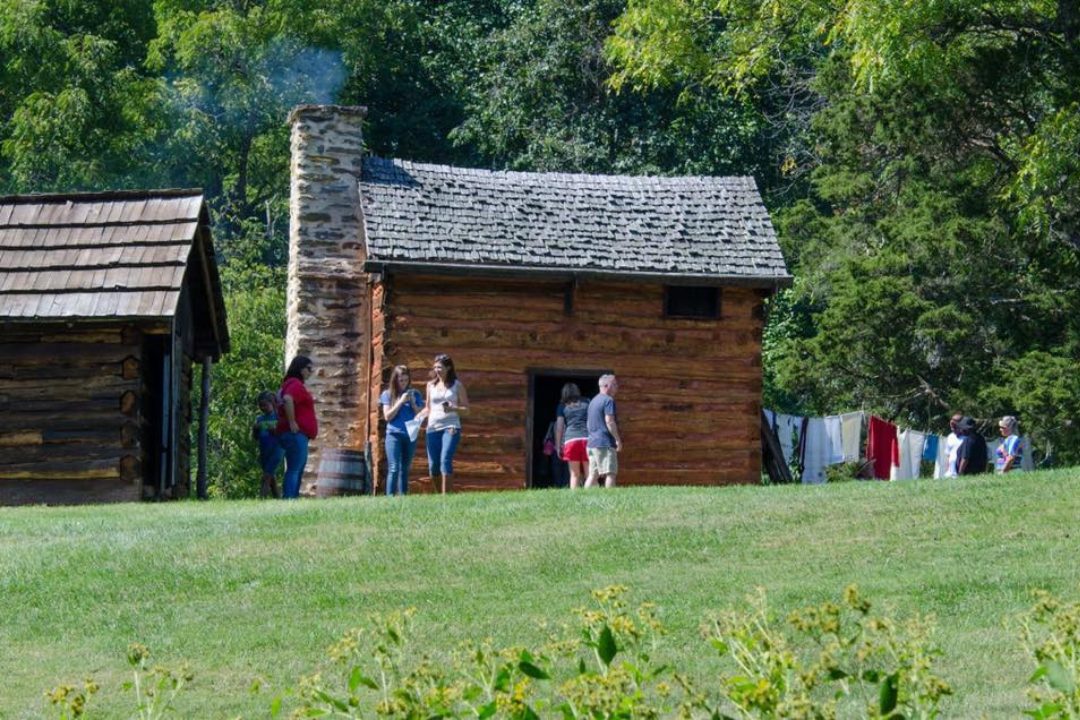 Booker T. Washington National Monument
| Hardy, VA
Located near Westlake Corner, Booker T. Washington National Monument is a great spot for family, friends and dogs to explore fields, woodlands and a babbling creek. 
The 239-acre park is dedicated to Booker T. Washington, the noted African-American educator and statesman, who grew up as a slave on what was then the Burroughs Plantation. 
The quarter-mile Plantation Trail loops through the historic part of the park, passing by reconstructions of 19th Century farm buildings. Nearby is a farm area with sheep, pigs, horses and chickens. 
The Jack-O-Lantern Branch Trail is a scenic, 1-5 mile hike suitable for the whole family, including dogs, which must be leashed at all times. Admission is free but donations are accepted.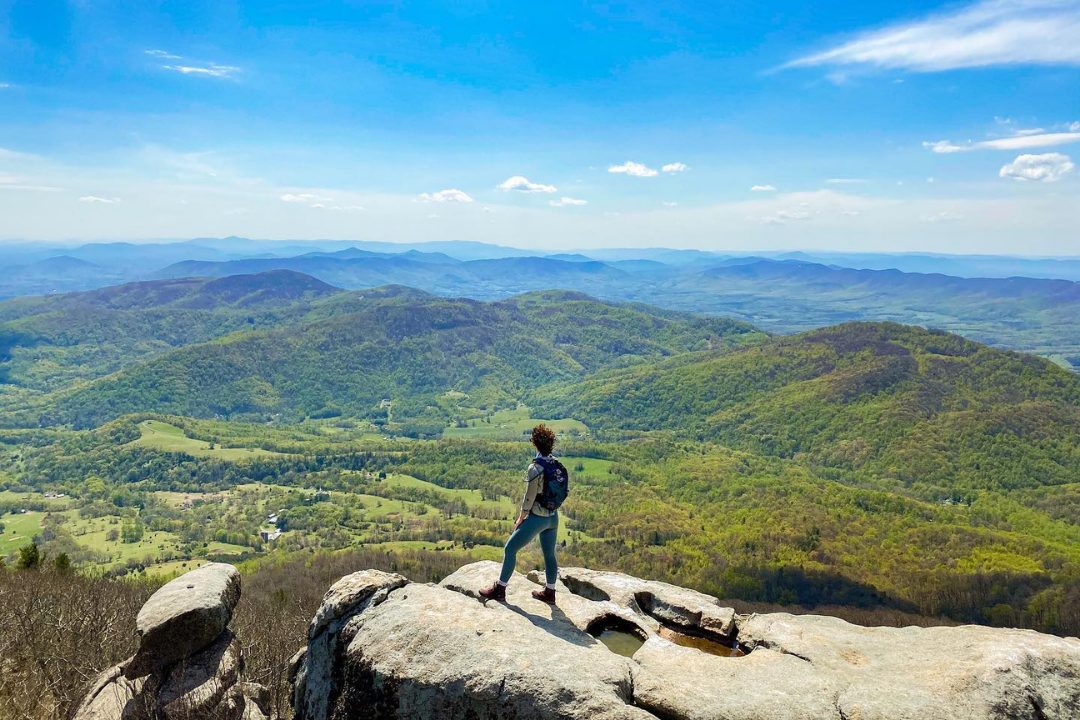 Sharp Top at Peaks of Otter
| Bedford, VA
The Peaks of Otter area in nearby Bedford has numerous options when it comes to fun hiking trails near Smith Mountain Lake. Flat Top, Sharp Top and Harkening Hill are all staples of the hiking community within the SML area. However, the one we'll focus on is Sharp Top Mountain. 
When driving around the region, Sharp Top is distinguished among the rest of the surrounding mountains based on its given name. You guessed it, the peak is sharper than the rest!
This hike up Sharp Top is well known by locals and is usually the top answer when asked, "What are the best hikes near me?"
Though only 1.5 miles in distance from the camp store to the summit, the elevation gain is 1,540 feet, making the hike somewhat strenuous. The steep incline will make your legs burn, but in the end, the result is so worth it! 
Sharp Top is the only hike in the area that offers a 360-degree view of the surrounding mountains and Abbott Lake. If you'd like, your dog may also join you on this adventure but must remain on a leash at all times. 
Falling Creek Park
| Bedford, VA
A day at the park is always a good day. Having a picnic at the picnic tables, swinging on the swing set, playing on the playground with your kids, utilizing the disc golf course and, you guessed it, hiking trails! 
Falling Creek Park on Falling Creek Road is only one mile off U.S. 460 and somewhat of a hidden gem. The 10-mile trail network was designed for all kinds of adventures, including hiking, trail running and mountain biking. 
Different trails throughout the park offer a multitude of difficulties ranging from easy to advanced. Try to fit everything into one day as the park is open from dawn to dusk 7 days a week. Pets are allowed at the park but must remain on a leash at all times. 
Grassy Hill Nature Area Preserve
| Rocky Mount, Virginia
Explore the 1,300-acre Grassy Hill Nature Preserve's 6.6 miles of trails in Rocky Mount. Beginners or families with young children will enjoy the easy and well-maintained trails.
Virginia pine patches are scattered throughout the site's rocky slopes, which are forested with hardwoods. Magnesium-rich bedrock outcrops are common as well as shallow, heavy-clay soils.
Waid Recreation Area
| Rocky Mount, Virginia
Ride out to Waid Recreation Area near Rocky Mount, a 220-acre facility that offers more than 5 miles of trails for hiking and biking. The trails make their way through rivers, over hills and across the bucolic Franklin County countryside.
At Waid Park, you'll also find two playgrounds, sports fields and opportunities to fish, kayak, canoe and tube on the Pigg River.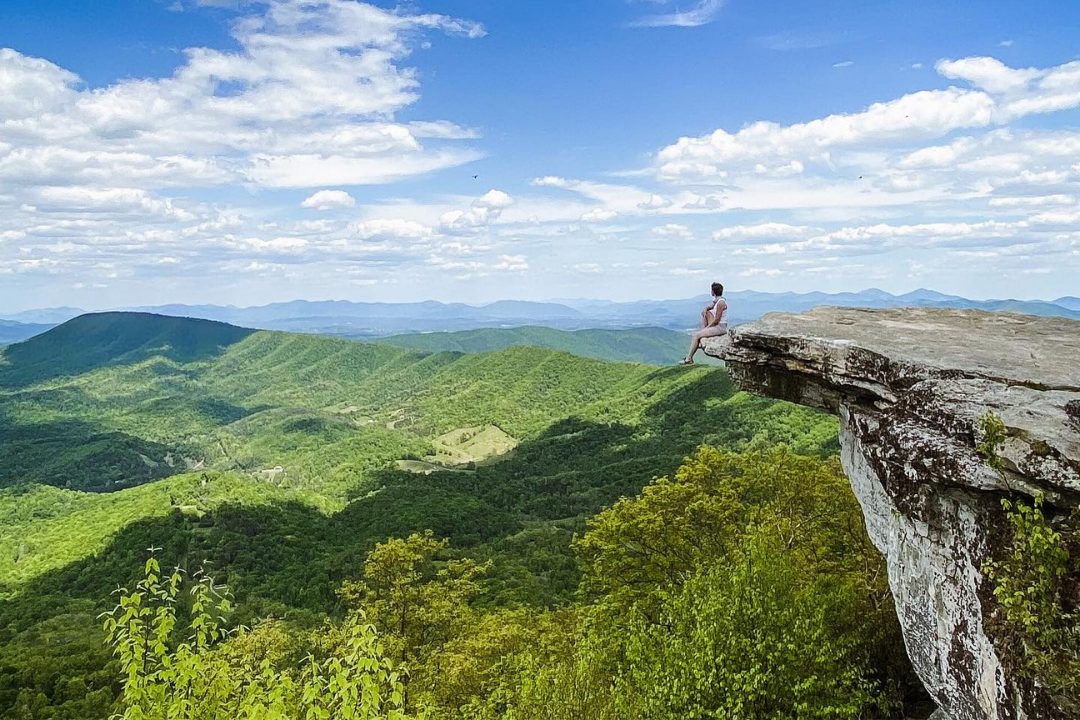 McAfee Knob
| Catawba, VA
If you're looking for a getaway hike about an hour away from Smith Mountain Lake, McAfee Knob near Catawba is a must. The summit is often referred to as one of the most photographed spots on the Appalachian Trail.
This hike is moderately difficult as it's 8.8 miles round trip, most along the Appalachian Trail, and features an elevation gain of 1,740 feet from the VA-311 parking area. A shorter, less strenuous option is to take the fire road.
Once you've reached the top, you will be mesmerized by the end of the trail and how unique it is. The trail ends on a rocky mountain terrain that sticks out on a diving-like platform in the air. 
McAfee Knob has a 270-degree panorama view of the Catawba Valley. North Mountain is visible to the west, Tinker Cliffs to the north and the Roanoke Valley to the east. Dogs are allowed to use this trail but must be kept on a leash at all times. 
Dragon's Tooth
| Near Catawba, VA
Just when you thought McAfee Knob was the most difficult one yet, just wait until you meet its neighbor, Dragon's Tooth. 
Dragon's Tooth is 4.5 miles up and back with an ascent of 1,256 feet. Not only is this trail used for hiking, it's also great for running, camping and bird watching. Because of all the different experiences the trail provides, an increase in hiker traffic has grown, leaving Dragon's Tooth one of the most sought-out hikes in the area.
If you're up for the challenge to witness why the trail is named Dragon's Tooth, then by all means go for it! Just make sure you hydrate and travel with an experienced hiker. Once you've reached the top, you'll be able to snap an instagram-worthy photo of you posing with the rock monolith that gives the hike the name. 
Dogs are able to use this trail but must remain on a leash at all times.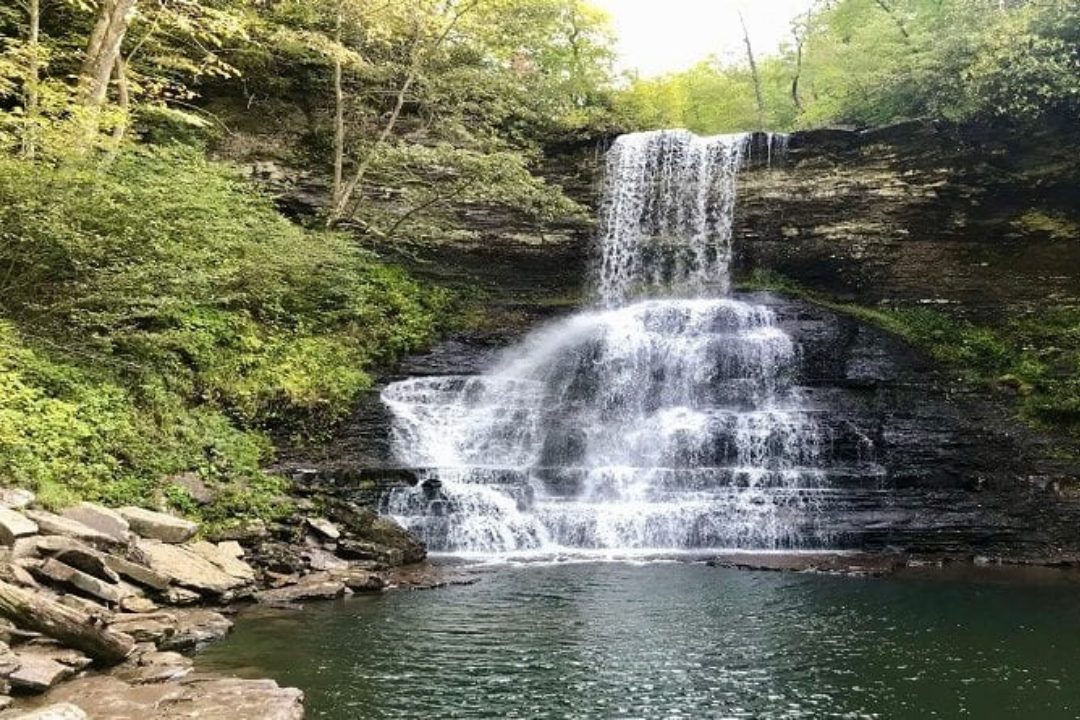 The Cascades
| Giles County
The Cascades, located inside the Jefferson National Forest in Giles County, is home to a 4-mile round-trip hike that meanders along a shaded mountain creek and ends at a gorgeous 66-foot waterfall. 
This hike can vary in range of difficulty depending  on the season. It is only used for hiking; no bicycles or horses are permitted. 
There is a $3 parking fee for the trail, which is only open from sunrise to sunset. There is absolutely no overnight parking, so make sure you're keeping track of the time while enjoying this classic hike. 
Mill Mountain Star Trail
| Roanoke, Virginia
Roanoke's Mill Mountain is home not only to its famous neon star that overlooks the city, but also a zoo and a 1.7-mile trail.
The trail begins at the base of the mountain and climbs 800 feet to the summit of Mill Mountain where you can check out the iconic star and take plenty of Insta-worthy photos. There are also picnic areas.
While hiking this trail you'll see a variety of trees (sassafras, oak, maple, redbud and locust) as well as plenty of wildlife. 
When attempting any hike, please make sure to follow all hiking safety protocols. Bring plenty of water and bug spray, and be sure to let someone know your hiking destination before you leave.